Darrell Green was teased all week by his peers that he would cry during his Hall of Fame induction speech.
Darrell Green wanted to cry.
In a moving 24-minute induction speech on Saturday evening, Green reflected on his family, the tragic loss of two childhood friends, and a Redskins legacy that goes beyond the football field.
"What a great day," Green said as he stood at the podium, looking out at a sea of burgundy and gold.
Fans flocked to Canton, Ohio, to celebrate the careers of Green and Art Monk, two Redskins greats and two of the Hall of Fame's newest enshrinees.
"To the football knowledgeable fans, the Redskins faithful, most caring folks in the world, we share this day with all of you, here and all over the world, back home and everywhere else," Green said. "God bless you. Thank you."
Green thanked his family, particularly his wife Jewell and his son Jared, who introduced him.
"A lof of people have traveled this with me," Green said.
Wiping away tears, he paid tribute to his parents, Leonard and Gloria, both of whom are deceased.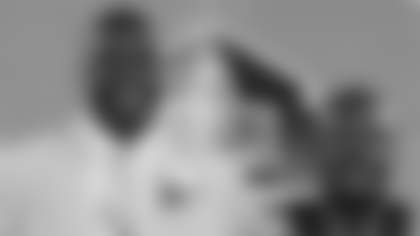 Darrell Green (AP Photo)
His father was the one to encourage him to pursue football at a young age, even though his size and frame wasn't ideal for the rigors of the game.

"Everybody said, 'You can't do it,'" Green said. "My dad said, 'Boy, you can run that ball.'

"They said 'No.' He said 'Go.'"

And Green went, all the way to the Redskins as a first-round draft choice in 1983.

He showed flashes of greatness as a rookie, chasing down fellow Hall of Famer Tony Dorsett in a memorable game and winning Associated Press NFL Rookie of the Year honors.

A two-time Super Bowl champion, Green would go on to establish franchise records for seasons played (20), Pro Bowl selections (7), games played (295), games started (258) and interceptions (54).

In another emotional moment, Green told the story of his two close friends growing up, Carnell Green and Clem Greenwood. They both would die under tragic circumstances.

"Both of my buddies were gone," just as Darrell Green was preparing for a career in the NFL and with the Redskins.

In Washington, D.C., Green would put tragedy behind him and meet many more people who influenced his career. He thanked his many teammates, from Vernon Dean to Charles Mann to Ken Harvey to Kenard Lang.

He said Redskins great Bobby Mitchell, a team administrator during Green's years with the club, "treated me like a son."

And Green made special mention of two Redskins who passed away last year, Kevin Mitchell and Sean Taylor.

"The Redskins nation sticks together," Green said as he marveled at the outpouring of applause for Mitchell and Taylor.

Green, a devout Christian, reflected on the influence that Jesus Christ has had on his life.

Since retirement in 2002, Green has operated the Darrell Green Youth Life Foundation to help youth develop into leaders and positively influence their communities.

Despite playing a violent game, Green stayed true to his convictions as a Christian and let it guide him through his life.

"Knowing Jesus, loving him and making him known--I did that even as a football player, playing a childhood game."

Green closed with this: "Can I tell you, at the expense of sounding self-righteous, I belong here. I belong here. I belong here.

"I belong here because I know what to do with it. I know what to do with God's fame, with God's dollars, with God's visibility, God's influence and relationships. I know what to do with it."