DETROIT – Funny thing about a comedy of errors. It's not funny.
None of the gaffes and goofs of Sunday's game against the Detroit Lions tickle the ribs or provoke smiles. No one would laugh out loud unless assigned the task of breaking down the Redskins.
No real need to do that. The Redskins broke down all by themselves.
Sluggish, flat and sloppy (which is no way to go through life), the Redskins went into their bye week a day early. Thanks for visiting Ford Field. Next time could you remember to play?
At the end, the Redskins hooked Donovan McNabb for Rex Grossman. McNabb had thrown a stunning interception minutes before that allowed Detroit to score and take the lead. Grossman promptly absorbed a huge hit, coughed up the ball and the Lions scored again on the fumble return in what became a 37-25 smackdown. There's something to chew on with no game for two weeks.
"I felt Rex gave us the best chance to win," coach Mike Shanahan said afterwards, though he also indicated McNabb would remain the starter.
Desperation. Desperation, disaster and disgrace in Detroit. Once more.
Disguised for Halloween as a football game, this little shop of horrors pitted a pair of error-prone teams. It takes two to ugly it up to this extent and the Lions certainly did their part. Except they shook it off while the Redskins sank ever deeper into depths of their own making.
The Lions came in with one victory this season and that's always a bad sign for the Redskins. It is often said they play either up or down to the level of their competition and they continued to ride the elevator, pushing the down button continuously until they reached subterranean strata where even miners don't fare.
Lions 37, Redskins 25. A would-be 5-3 start that would have exceeded all outside expectations slipped away. Again, facing a softer opponent, the Redskins burped and hiccupped on offense, set themselves back with endless infractions and squandered a game that should have been candy.
"We're pretty much disgusted with ourselves," receiver Anthony Armstrong said.
The Redskins lost here last year. Lost to a team with a 19-game losing streak. Learn anything from that? No. They were flat enough at the start to get out of the locker room by sliding under the door.
Well, there's the comedy. Now, the errors. This will be the abridged version, as no one has the time to read a three-part series.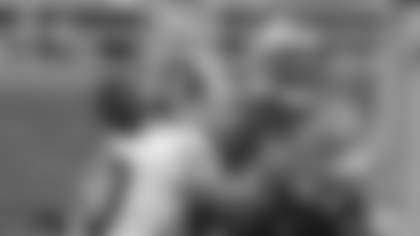 How about having a 95-yard kickoff return for a touchdown wiped out by a penalty, the third infraction by special teams on the day to that point in the third quarter? How about going into the game with just two healthy running backs and then losing one, the starter (Ryan Torain) to a hamstring? How about letting a crowd the size of a community picnic (42,329) get in the game and stay in it? How about jumping offside on a Detroit field goal attempt, allowing the Lions a first down and eventually a touchdown?
How about that interception Donovan McNabb threw when caution should have been the watchword? Or the early attempt for a two-point conversion when logic did not dictate it?
For a team to score on a kickoff return, as the Redskins ultimately did when Brandon Banks hauled one 96 yards, and still lose? It defies the odds.
Let's take a look at McNabb, victim of Halloween pranks. In each of the first two series, McNabb got stepped on as he pulled away from the center with the snap. Pressured, pummeled and pounded the rest of the way, he made the biggest mistake at the worst of times. Note to Redskins offensive line – No. 90 for the Lions is Ndamukong Suh. He needs to be blocked or he will break your quarterback. Make a note for next year.
For his part, McNabb showed a certain Halloween generosity. He gave away the football after the Lions knocked repeatedly on his door, put it right in their bag. That turnover let the Lions produce the go-ahead touchdown and two-point conversion and sent McNabb to the bench.
"You make a decision and you go with it," Shanahan said of the switch. "I don't think any quarterback likes it but you have to make those tough decisions."
When the line held (not in the sense of a holding penalty, smarty), McNabb launched a 50-yard strike to Armstrong that set up Graham Gano's 38-yard field goal that improbably put the Redskins ahead in the second quarter. Gano would add another, of 46 yards, on the final play of the first half for a 13-7 lead.
Even so, the seeds of disaster were about to bear pumpkin-sized fruit. The Redskins may have been ahead but it felt like anything but. They did not so much outplay as the Lions as survive their own worst efforts.
Sometimes, anyway. Midway through the third quarter, after a great tackle by LaRon Landry on Javhid Best to stop the Lions at the Redskins 7 and force a field goal try, Phillip Daniels crashed through the line before the Lions even considered snapping the ball. The penalty led to a first down and then the go-ahead touchdown, on Matthew Stafford's 2-yard pass to Brandon Pettigrew.
Stafford, back from an opening-day shoulder injury, would finish with four touchdown passes.
Compounding McNabb's problems was poor field position. The Redskins were always much closer to crossing their own goal line than Detroit's. When they managed to start from so privileged a spot as their own 20-yard line, Chris Cooley committed an offensive pass interference penalty and wham, the Redskins landed back at their own 10.
They think of that as their ancestral home land. They started drives at their own 10, 20, 20, and 11 in the first half. They must like it that way.
And now, a few words about their partners in crime, the Lions. That's a well-earned 2-5 record they sport. They drop passes, they drop interceptions (and Alphonso Smith will forever see an 85-yard touchdown he did not score because he did not handle a pass McNabb never should have thrown). With Redskins punter Hunter Smith spraying kicks to the sidelines way short of their intended destinations, the Lions enjoyed a tilted field.
The Lions provided the level of competition. The Redskins played to it, then got progressively worse.
The Redskins defense at least handled its business for a while. DeAngelo Hall intercepted a pass in the end zone to prevent a score, Albert Haynesworth blew up a third-and-short play and the Lions scored after Stefan Logan's 71-yard punt return put them at the Redskins 19. The Redskins contained the run and kept Calvin Johnson under control until their offense fell apart completely, the Lions sensed victory and Johnson ended up with three touchdown catches.
This is what the Redskins look like. It's not a Halloween mask. This is not a pretty face. When they line up against the NFL's better teams, they hang with them. When they face the dregs, they stoop to conquer.
Except they sometimes forget the last part. Nor do they ever seem to learn from it.
---
Larry Weisman, an award-winning journalist during 25 years with USA TODAY, writes for Redskins.com and appears nightly on Redskins Nation on Comcast SportsNet. Read his Redskinsblitz blog at Redskinsrule.com and follow him on Twitter.com/LarryWeisman.