This is uncharted territory for Anthony Armstrong.
The first-year wide receiver not only earned a roster spot, but he could play a significant role in the Redskins' offense this season.
In preseason, Armstrong was getting playing time with the first-team offense and he seemed to develop a solid rapport with quarterback Donovan McNabb.
Armstrong, 27, was so impressive in preseason that it's easy to forget that this Sunday's opener against the Dallas Cowboys is his first NFL game.
"I've been eerily calm [about making the 53-man roster]," Armstrong said. "I really haven't exploded like I thought I would. I've just kind of rolled with it."
Armstrong finished preseason with seven catches for 101 yards and one touchdown.
He said on Monday that he was still practicing as if it were training camp.
Perhaps he doesn't feel like he belongs just yet. Or perhaps he is constantly trying to prove himself.
"I'm still trying to get better," he said. "The next step is to start. There's always something out there you can strive for and reach for."
Along with his offensive performance, Armstrong excelled on special teams during preseason. He posted three tackles on kick coverage units.
Armstrong believes his special teams play was the difference.
"I think it was huge," he said. "You look at rosters across the league and you see those second- and third-team receivers who have to do other thing things beyond being a receiver. You don't usually get to be a starter all the time. There are only going to be two starters and maybe three depending on the offense.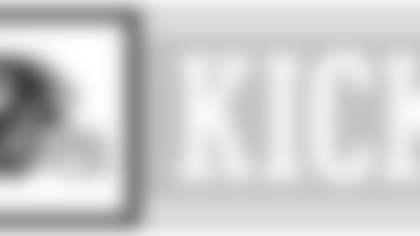 "I knew I was going to have to make an impact there to make myself more valuable."
Now Armstrong gets to prove himself against his hometown team.
It's appropriate that Armstrong should play in his first NFL game against Dallas. He grew up in Carrollton, Tex., a suburb of Dallas, rooting for the Cowboys.
He even had a stint in the organization, in a way. In 2007-08, he played for the Arena Football League's Dallas Desperadoes. The Desperadoes were owned by Cowboys owner Jerry Jones.
Armstrong said it's going to be "crazy" playing against the Cowboys, but he won't be awestruck by the star on their helmets. He has put childhood loyalties aside.
Dallas Week had barely begun for Armstrong when he started exchanging barbs with family and friends back in Texas.
"There's already a lot of talk, and they're all ganging up on me," he said. "But I enjoy the underdog role. I'm ready for it."