Sean Ryan knows he is regarded around the league as a blocking tight end.
Ryan wants you to know he can catch the ball, too.
Last year with the Kansas City Chiefs, Ryan caught 14 passes for 135 yards and two touchdowns in 10 games.
"I had a chance to make plays downfield last year and I think I proved to people that I could catch the ball," he said.
Of course, that may not be necessary in Washington. He joined pass-catching tight ends Chris Cooley and Fred Davis on the Redskins' roster on March 11.
Ryan said he often prefers blocking defensive linemen and linebackers at the line of scrimmage.
It's mano y mano, he said.
"It's old school," he added. "Are you better than me or am I better than you? A lot of times you're matched up with a guy who is either the same size or a little bit bigger than you. The running game usually comes right where you block.
"So if you do your job, the running back gets a hole to run through. If you don't do your job, everyone knows you didn't do your job. It's great competition there for me and I take a lot of pride in it."
Ryan entered the league in 2004 as a fifth-round draft pick (144th overall) by the Dallas Cowboys.
He played two seasons in Dallas and then had stints with the New York Jets, San Francisco 49ers, Miami Dolphins and New Orleans Saints before signing with Kansas City last year.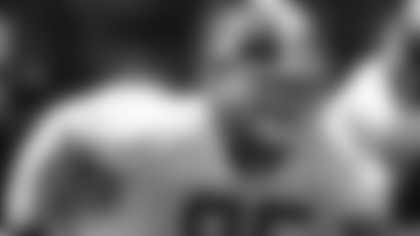 Six teams in six years. And now he's on to his seventh.
Ryan admitted he would like to find an NFL home and stay there for the rest of his career. He wouldn't trade away his experiences, though.
"I've been afforded an opportunity to play with a lot of different [teammates] and play for a lot of different coaches," Ryan said. "I take a little from all of them everywhere I go. Everyone has a different way of doing things. It benefits a player just to build on that and obviously learn.
"Obviously you'd love to play in one place your whole career, that's everyone's goal. But that doesn't always happen anymore."
In Washington, Ryan is one of five tight ends on the roster.
Cooley and Davis are assured of roster spots, so Ryan is competing with second-year player Lee Vickers and undrafted rookie Logan Paulsen to be the third tight end.
His niche as a blocking tight end should give him an advantage.
"We have a good, tight competition right now," Ryan said. "There are four of us who have played before and three of us have had starting jobs in this league. The competition is bringing out the best in everybody. We call all build off of it.
"We have good camaraderie and no matter who comes out on the [final] roster, tight end is going to be a strength of our team."