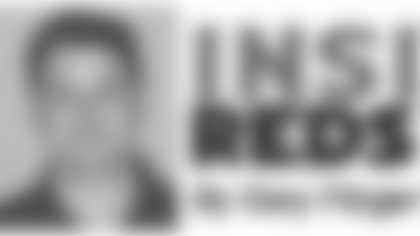 The first week of free agency is replete with high profile signings, and this year the Redskins were right in the middle of things.
The team made a splash on the first day of free agency, signing defensive tackle Albert Haynesworth, cornerback DeAngelo Hall and guard Derrick Dockery.
The pace has started to slow down now.
What's next for the Redskins?
Team officials can now turn their attention to filling in the gaps.
"We're looking at a couple other guys and we'll see how that goes," Redskins executive vice president of football operations Vinny Cerrato said. "Any way we can try to improve, we're going to keep trying and keep looking at it, and then see where it takes us."
Cerrato, not wanting to tip his hand, was vague when asked if there were specific positions the team would look at in free agency.
"We won't be looking for a corner and we won't be looking for a defensive tackle," he said. "We still have areas that we'll look at."
Given the release of Jason Taylor and Marcus Washington this offseason, it makes sense that the Redskins might explore free agent options at defensive end and strong-side linebacker.
"I think it puts a need in that direction, whether it's in free agency or through the draft," head coach Jim Zorn said. "We have other areas we want to shore up as well. It's a long process. It just takes grit. We're still working. Some things go away, and some things develop."
Beyond Andre Carter, the Redskins do not have a defensive end with starting experience on the roster.
Phillip Daniels and Demetric Evans are veterans with starting experience, but they are both unrestricted free agents this offseason.
Zorn said he was hopeful the Redskins could re-sign Evans to maintain depth along the defensive line.
Regarding Evans, Zorn said: "I think some players have to go find a financially competitive place that can compete with what we're [offering]. And then they have to find a place they feel they can go and win.
"So I think there are a lot of ingredients that go into a player's pursuit. We hope Demetric comes back to us."
At strong-side linebacker, it appears H.B. Blades is next in line to assume the starting job. Blades is thought to be a more natural fit at middle linebacker, though.
Khary Campbell and Alfred Fincher are both unrestricted free agents, so at the very least the Redskins may need to add some linebacker depth this offseason.
On offense, it appears Jon Jansen and Stephon Heyer are in line to compete for the starting job at right tackle.
Last year, Heyer won the job coming out of preseason, but he was sidelined several games due to a shoulder injury.
Jansen replaced Heyer in the lineup and re-claimed the starting job for the rest of the season.
With Pete Kendall, Jason Fabini and Justin Geisinger unrestricted free agents this offseason, the Redskins could look to add a veteran offensive lineman who could compete for backup jobs at guard and tackle.
Zorn and offensive line coach Joe Bugel remain interested in retaining Kendall, even though Dockery assumes his starting job at left guard.
On special teams, the Redskins have just one punter on the roster, untested first-year player Zac Atterberry.
The club could look to sign one or two veteran punters this offseason to fortify that position.
Last year's punter, Ryan Plackemeier, was released by the Redskins in February.
Of course, the Redskins could look to fill defensive line, linebacker, offensive line and punter in the NFL Draft, slated for April 25-26.
The Redskins hold the No. 13 pick in the NFL Draft.
The team will look for that player to develop into a starter in his rookie year, Zorn said.