After missing the 2007 season with a fractured ankle, Jon Jansen developed a newfound appreciation for football last year.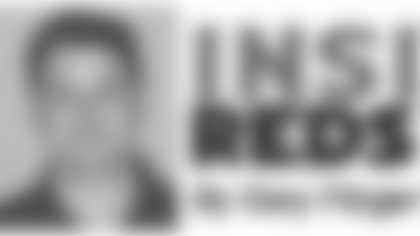 Jansen knows he is in the latter stages of his NFL career, so he wants to enjoy every moment.
Last season, Jansen battled to hold on to his starting job at right tackle and ended up starting 11 games.
It was difficult for Jansen to see last season come to an end without a playoff berth.
He has been a part of the postseason just twice--1999 and 2005--in his career. (He was on injured reserve last season when the Redskins made the playoffs.)
"Every year that you don't make the playoffs, every year that you don't get a chance at the big shot, it is frustrating," he said. "You don't know how many years you are going to have. You don't know how many opportunities you are going to have.
"We have a lot of talent. We have to start capitalizing on division opponents, on our home games, and games against teams that aren't as good as us."
Jansen is the longest tenured Redskin, having played for the franchise since 1999.
The team selected him in the second round of the NFL Draft that year.
Jansen began last season on the bench as coaches opted to start Stephon Heyer at right tackle. It was thought that Heyer was better at pass protection than Jansen.
After Heyer suffered a shoulder injury in Week 3, Jansen reclaimed the starting job. He missed two games due to a knee injury in December, but otherwise started the rest of the season, including the season finale in San Francisco.
Jansen was part of an offensive line that had the league's eighth best ground game. He partnered with veteran Randy Thomas to form a solid right side of the line in run blocking.
So Jansen believes a solid foundation is in place for a productive offense.
"We had a running back [in Clinton Portis] that ran for nearly 1,500 yards, and up until midseason we had a quarterback [in Jason Campbell] who hadn't turned the ball over," Jansen said.
"We stumbled at the end of the year, but we had some definite positive moments where we can turn to and say, 'If we can play on a more consistent basis, then we can be a good offense.' We know what our defense can do and what our special teams can do. We can be a good team."
This offseason, the Redskins could seek to get younger along the offensive line.
Jansen turns 33 years old this month and he is under contract for next season. He admits to an uncertainty where he fits in long-term.
"I am not a spring chicken, but I have some good years in me, whether it's here or somewhere else," Jansen said. "I have walked out of here plenty of times not necessarily knowing what my future was going to be, so it's not anything new."
Upon leaving Redskins Park for the offseason, Jansen said he intended to discuss his football future with his wife, his agent and head coach Jim Zorn.
Given his close bond with members of the team, Jansen would certainly welcome another year playing in Washington.
"I have had a great opportunity to play here," he said. "If the opportunity presented itself to play here again--I love playing in Washington and would continue to do so."