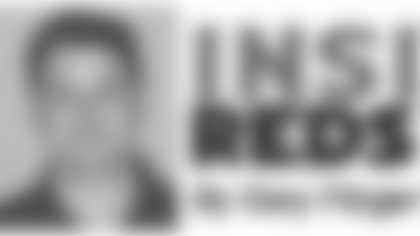 When most NFL teams take chances in games, it is usually not late in the fourth quarter.
The conventional wisdom suggests that you don't take risks at that point of a game.
Not the Redskins. Not Jim Zorn.
Twice in the last four games, Zorn has faced a fourth down situation with less than three minutes to play in the game--and went for the first down.
The conventional wisdom: punt the ball.
If there's anything to learn about the early stages of Zorn's coaching tenure, it is that the conventional wisdom is not often a consideration.
By doing so, Zorn is staying one step ahead of opposing defensive coordinators.
It seems they're desperately trying to catch up to Zorn and figure out his tendencies. That's proving hard to do because Zorn keeps changing his tendencies.
His best weapon remains his unpredictability.
"What happens in this game is that defensive coordinators and assistant coaches get very good at starting to learn," Zorn said. "There's a learning curve there. People will learn about us and who we are. We have to get continue to get better.
"If we get better on our execution, my hope is that the learning curve never catches up with what we're doing."
The unpredictability showed up in the fourth quarter of Sunday's 23-17 win over the Philadelphia Eagles.
On Sunday against the Philadelphia Eagles, the Redskins took possession of the ball leading 23-17 with 7:12 left.
Time to run out the clock.
In years past, this was the so-called "Riggo Drill" with Hall of Famer John Riggins. Now it's a new cast of characters in 2008, with Zorn, Jason Campbell and Clinton Portis.
Campbell converted two clutch third downs on the drive, both times using his legs.
First, on 3rd-and-4, Campbell eluded pressure to throw an 11-yard pass to Randle El.
Then Campbell, on 3rd-and-9, burst up the middle for a 17-yard gain.
Three plays later, it was 4th-and-1 for the Redskins with 2:48 left.
Zorn has proven to be bold in these situations, and he gave his offense the chance to convert at the Eagles' 38-yard line. He said he was considering three plays at that spot, but Clinton Portis just walked by and asked for the draw play.
Campbell handed off to Portis up the middle. There was a strong push by the linemen up front, and Portis bulldozed behind guard Randy Thomas to pick up three yards for a first down.
Portis jumped up after the playand raised his arms in celebration.
The play had sealed the win for the Redskins, and Lincoln Financial Field started to empty.
"That was all Clinton Portis," Zorn said. "I called the formation and how I wanted it set up, but he called the play. It wasn't necessarily there, but he willed his way for the first down.
"I had a great view of his grit and the offensive line's grit on that play. [Portis] called it, he ran it, and he got it. And it was a huge, huge play in the football game.
"Was the call great? I don't know. But the execution was great."
In Week 2, the Redskins were faced with a similar situation.
Leading 29-24 over the New Orleans Saints, Zorn went for it on a 4th-and-2 at the Saints' 34-yard line with 1:58 left in the game.
That time, Jason Campbell dropped back to pass and fired a quick pass to Chris Cooley for an 8-yard game.
That play may have set up the Redskins' fourth down play call in the Eagles game.
In preparation for the Redskins, the Eagles had to note Zorn's 4th-and-2 play call three weeks earlier.
Would they pass again? Or would they run?
The Eagles were off balance, and the Redskins took advantage.
"Coach Zorn set it up early in the season because we have been throwing it a lot on short yardage," Portis said. "I knew the play would keep them off their feet. I didn't know Coach Zorn was going to call it, but then we got in the huddle and Jason called, I knew I had to get those two yards."
Perhaps most importantly, Zorn is showing confidence in his players.
And players are responding.
The Redskins have ended each of their last four games with Jason Campbell kneeling down.
Of course, that's the Redskins' "victory formation," Zorn said.
It's certainly well deserved.