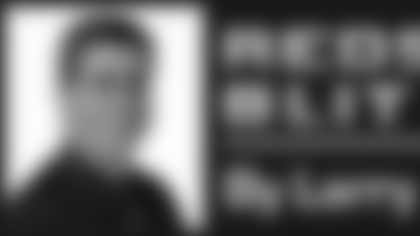 Questions, questions, questions. Two preseason games down, two to go, 27 players to cut, still a few uncertainties to iron out.
Next stop: FedExField on Friday night for a nationally televised meeting with the New England Patriots. The Redskins will have to cut five players by Sept. 1. Then they'll travel to Jacksonville to play the Jaguars on Sept. 3 before lopping another 22 off the roster to set the final 53.
"It is the most difficult task to find that chemistry of the 53," coach Jim Zorn says.
Versatility helps the people who aren't likely to start or whose chances to make the roster hinge on performances yet to be seen. The more roles a player on the bubble can fill, the better his chances.
Marko Mitchell, the seventh-round draft pick, fits the Redskins well as the fifth receiver but had limited experience as a special teams participant in college. He has worked hard to catch up on that in training camp and also caught a touchdown pass against the Pittsburgh Steelers. The veteran cornerbacks go out of their way to abuse him, which means they're developing a certain respect for his skills. But has he done enough to elevate himself above a veteran like D.J. Hackett or other youngsters like Keith Eloi and Trent Shelton?
That fifth receiver spot is one of several the Redskins must ponder. They don't really have too many issues in terms of starters and that means the moves they made and the players they acquired provided help.
Here's a look at some of the areas once viewed as problems or vacancies and how they've been filled:
Left guard: The Redskins signed Derrick Dockery, who played the first four years of his career before joining the Buffalo Bills as a free agent. The Bills released him as part of their total overhaul of their line. His reinsertion next to left tackle Chris Samuels went seamlessly during the off-season. This is an upgrade over Pete Kendall.
Right tackle: The Redskins cut Jon Jansen and asked Stephon Heyer, a third-year player, to win this job. Heyer filled in for Samuels at the end of last season and played the left side at Maryland but had started on the right side for the Redskins. After a minor knee injury early in camp, Heyer stepped it up and nailed down this job. "He's a legit tackle," says offensive line coach Joe Bugel. "He deserves to be the starter."
Wide receiver: Malcolm Kelly seems to have made greater strides than Devin Thomas and could be the No. 2 receiver behind Santana Moss. That would move Antwaan Randle El to the slot. At 6-4, Kelly presents a great target. Zorn says a decision about Kelly and Thomas might not crystallize "until a couple of games into the season. I think they really are even now."
Quarterback: Jason Campbell remains the starter but faces pressure to get the first-team offense in the end zone against the Patriots. His numbers have not been good. Todd Collins did not get pushed for the No. 2 job by Colt Brennan, who in turn is getting pushed for the No. 3 job by rookie free agent Chase Daniel. That's a duel that will continue in Jacksonville.
Strong-side linebacker: No. 1 pick Brian Orakpo takes over for Marcus Washington. He'll line up at linebacker on first down for sure but figures to move to right end in passing situations. He continues to work on his drops and coverage responsibilities as a 'backer. His ability to rush the passer with quickness shines through.
Defensive tackle: This was not a weakness but the Redskins signed Albert Haynesworth to a contract that could be worth well over $100 million. His impact on opponents will be gauged during the season but the two-time All Pro pick not only makes the guys around him better but the guys across from him as well. "He is getting Dockery ready to play," Bugel says. "Dock has to go against him in pass protection every day and it's full bore and Albert can move this building if he decides to do it. He's made Dock a more aware pass protector."
Punter: Signing free agent Hunter Smith solved multiple problems after the team burned through three punters last year. Smith can boot the ball but he also excels as a holder. Last year's trio could not claim that as a strength and it impacted the kicker.
Kicker: Guessing that Shaun Suisham will fend off Dave Rayner and return for another season. Suisham missed an NFL-high 10 field goal tries last season though a number of them can be laid off on poor holds by the aforementioned punters.
Two games down, two to go. Time enough for some jobs to be won or lost and for confidence to build or erode.
---
Larry Weisman covered professional football for USA TODAY for 25 years and now joins the Redskins Broadcast Network and Redskins.com to bring his unique viewpoint and experience to Redskins fans. Go to Redskins.com for the Redskins Blitz column and NFL Blitz on Friday. Larry also appears on Redskins Nation, airing nightly on Comcast SportsNet, and on ESPN 980 AM radio, both in the Washington, D.C. area.