There's Clinton Portis, Larry Johnson and Willie Parker competing at running back.
There's Joey Galloway, Roydell Williams and Bobby Wade among wide receivers in competition for roster spots.
There's Kareem Moore and Reed Doughty competing at safety.
This is what Mike Shanahan wants.
Competition at every position.
Competition for roster spots.
Competition to make the Redskins better.
"One of our goals once we do start training camp is to have our top 80 guys," Shanahan said.
There's a long way to go, though. On Sunday, the unofficial midpoint of the Redskins' offseason, the team wrapped up its three-day mini-camp.
It was an opportunity for coaches to get another look at veteran starters, potential starters, role players and rookies.
"You have some old players with some young players, some experienced veterans," Shanahan said. "You get a chance to see what they can do, not only in the off-season program, but also in mini-camps. You want people out there every day."
Under Shanahan and a new coaching staff, the Redskins are, in a sense, still in startup mode. At this early stage, there is no depth chart.
With the exception of quarterback, where Donovan McNabb is the likely starter, Redskins coaches are mixing and matching at various positions.
One day Reed Doughty gets the bulk of reps at free safety. The next day it's Kareem Moore.
"It doesn't matter what position you play--we have guys that have been players here for a long time that are starters, first, second, third and fourth team," Shanahan said. "Everyone starts out at a position. We can go and talk about why we did that, or why we did other things, but the bottom line is that we are evaluating them every day, through the off-season program, through the preseason. It is a constant evaluation.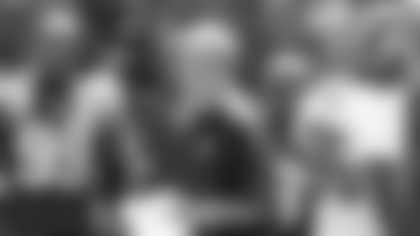 "We will try some guys who are with the first team and then the next day they will be with the second team or third team. We will change things up...That is going to be a constant, just to have people compete at different positions. That will go all through the off-season program."
Players who do not measure up or fit in the team's plans can expect to be released. That's what happened to Anthony Montgomery, Marko Mitchell and Anthony Alridge on May 3.
The Redskins have tweaked their roster all offseason.
"We will always have roster changes," Shanahan said. "Guys that we feel can help our football team win are going to stay. If we feel somebody is not practicing at a certain level or not going to be a part of our 80, then we will make those changes."
Rookies must show they can adjust to the NFL game to stick on the roster.
During mini-camp, they arrived for an early morning practice at 6:15 a.m. so that they could get acclimated to an NFL practice. After meetings and practice from 11 a.m.-1 p.m., they stayed late for a walk-through practice in the late afternoon.
Long days for Trent Williams, Perry Riley, Dennis Morris and the rest of the rookies.
The pressure is on Williams, the Redskins' first-round draft pick who is already working with the first-team offensive line.
"It's a growing experience," Shanahan said of Williams' first mini-camp.
Other rookies have more time to study, more time to learn and more time to adapt to the NFL.
It continues with voluntary OTAs through May and early June and culminates with a mandatory mini-camp in mid-June.
"It's going to take them a while to get in football shape, but for now I think they feel comfortable just trying to learn the system," Shanahan said. "It's an ongoing process. I know they are looking forward to the OTAs to give themselves a feel of what we are trying to do on both sides of the ball."