Rain delays may be common in baseball, but everyone knows that in football you play regardless of the weather.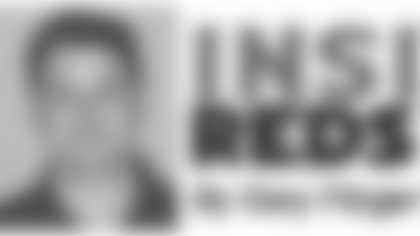 So on Monday afternoon when Joe Gibbs walked outside Redskins Park to a driving rainstorm, his first inclination was to wait it out. The thought of canceling practice had crossed his mind, but he was quickly persuaded otherwise by a pair of Pro Bowl players.
Laveranues Coles and LaVar Arrington, standing nearby, gave Gibbs the thumbs up. The players were ready to go.
Meantime, about 10 Redskin players sat outside on benches under an awning, watching the storm pass through. Offensive lineman Mark Wilson, sporting a shaved head which was the result of a rookie prank, apparently felt the need to cool off, so he walked out into the driving rain and lay back on a bench. Teammates Randy Thomas and Robert Royal looked on with curiosity at Wilson, who seemed to welcome the wet.
Running back John Simon played weatherman, walking outside to witness the thunder and lightning for himself. He heard the thunder easily enough, but mistook lightning for the flash of cameras from nearby fans.
Outside, at one of the team's sponsorship tents overlooking the practice fields, fans sat together under cover and sung "Hail to the Redskins," perhaps hoping the song would send the rain on its way.
About 20 minutes later, the rain slowed to a drizzle and Gibbs toured the practice fields to survey their condition. He came back and said to Coles, Arrington and some other players waiting outside, "We can have a full two-a-day tomorrow or a short practice today--you're choice."
Of course Gibbs knew the answer.
The players quickly made their way to the team's Astroturf field for practice, to the cheering of those remaining fans who braved the weather.
"I was kidding when I asked that," Gibbs said later, laughing. "That would have been an easy vote."