Brandon Banks, all 5-7 and 155 pounds of him, has suddenly become a training camp favorite.
Fans scream his name as he walks off the practice field. Just last week he would walk quietly to the locker room.
Now he feels obliged to sign autographs.
Banks, of course, was among the heroes of last Friday's 42-17 preseason pounding of the Buffalo Bills at FedExField.
Banks returned a punt 77 yards for a touchdown early in the third quarter.
It was a scintillating run. After an early block on a would-be tackler, Banks raced through a huge hole to the right and quickly out-distanced the Bills. He avoided a tackle by Bills punter Brian Moorman and skipped into the end zone.
Even though Banks also muffed a punt in the Bills game, by Monday he had moved up the Redskins' depth chart to the No. 2 punt returner behind Phillip Buchanon.
Not bad for an undrafted rookie.
"I felt good about it," he said. "It was a dream of mine and I felt like I accomplished it."
The dream cannot end there, though.
Banks is expected to get more opportunities as a punt returner in this Saturday's preseason game against the Baltimore Ravens.
"That is what camp is all about -- giving people the opportunity to make plays," head coach Mike Shanahan said.
Shanahan reflected back to 1995 when he was head coach of the Denver Broncos and a young running back named Terrell Davis emerged as a special teams standout in preseason.
"What impressed me with Terrell Davis is the way he played special teams," Shanahan said. "Anybody who has that type of heart, you need to give them the opportunity to show us what they can do."
Davis, of course, would go on to rush for 7,607 yards in eight seasons with Broncos. In 1998, he rushed for a career-best 2,008 yards.
Given his size, Banks entered training camp knowing he faced long odds in earning a roster spot.
In high school and college, and now the NFL, he has had to showcase his speed to prove doubters wrong.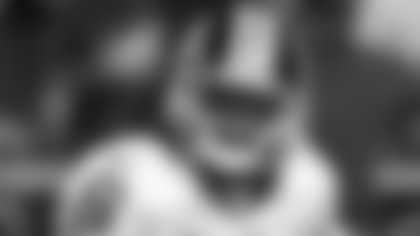 "Ever since I've played the game of football, every level I've played at, people always underestimated me and told me I was too small," he said. "Every level, I think I have proved that point. And I'm hoping to prove it at this level and continue to get better."
At Kansas State last year, Banks was the Big 12 Special Teams Player of the Year last season when he returned four kickoffs for touchdowns and posted a 9.1-yard punt return average.
Banks is a wide receiver, too. In two seasons with the Wildcats, he grabbed 123 receptions for 1,754 yards and 10 touchdowns.
To earn a roster spot, Banks knows that he must impress at wide receiver in preseason. He had some reps at wide receiver but he was not targeted in the Bills game last Friday.
"I'm still trying to fit in as a wide receiver," he said. "I'm still trying to get better so I can be on offense. I have to learn technique and how to run a route at the NFL level. You have to run a route with the right speed, the right depth, things like that."
Banks is part of a crowded and unsettled wide receiver competition. The good news is that no one has emerged as a clear front-runner for the starting job opposite Santana Moss.
It's a tall order for Banks, but he believes he's up for the challenge.
"The NFL is about playmakers, right?" said wide receivers coach Keenan McCardell. "[Banks] is a playmaker. When he gets the call, he can strike fear in a defense. He's a very quick guy. This game is always about playmakers."