John Beck wants to keep his head on straight while it tends to spin.
New team, new playbook, new opportunity. All in about 24 hours.
"It was kind of weird playing with one team in the morning and meeting with another team at night," Beck said Tuesday morning after his first workout with the Redskins.
The Redskins acquired the four-year veteran quarterback in a trade with the Baltimore Ravens, sending cornerback Doug Dutch to the Ravens to bolster their injury-ravaged secondary. The Redskins then released Colt Brennan.
Beck was a second-round pick of the Miami Dolphins in 2007, a season of unmitigated disaster. The Dolphins went 1-15, losing Trent Green to a concussion and then trying Cleo Lemon and the rookie Beck. Beck played in five games, starting four, none of them victories.
"As a quarterback you want to find yourself in a good situation that gives you an opportunity to excel," Beck said. "That was a tough spot, those years back in Miami, but I was able to learn a lot. I don't look back at that with any frustration.
"It was a tough thing to go through but I had an opportunity to play in five games as a rookie, which gave me some experience."
The Dolphins changed coaches and quarterbacks after '07, picking up Chad Pennington and drafting their current starter, Chad Henne. Beck did not play at all in 2008. He wound up with the Ravens last season and again did not get a chance to take a snap.
Beck was a player coach Mike Shanahan followed through his career at Brigham Young University, while Shanahan coached the Denver Broncos.
"We've been interested in John for a while and there was an opportunity to get him so we made the trade," Shanahan said. "I just liked him back in college and the system there was similar to the system we run. I liked the way he threw the football, the way he handled himself. Now I get to see him first-hand."
Beck completed 60-of-107 passes for one touchdown and three interceptions and fumbled seven times, losing five, with the Dolphins. Miami's only victory, oddly enough, came in overtime against the Ravens, in Week 15.
Now Beck starts over again. It won't be easy, as he well knows, but he said the Redskins' offense suits his abilities.
"There's a lot of things I really like about it. This offense is all about timing and anticipation and those are things I really try to improve my skill at all the time," he said.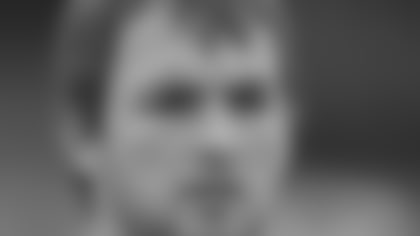 While the trade surprised him, he knew the Ravens' signing of free-agent Marc Bulger on June 23 to back up Joe Flacco could impact him.
"When they did sign Marc, you knew something was going to have to happen but you just never know what," he said. "As soon as I found out, I was very excited to come here."
The Ravens and Redskins do not run comparable offensive schemes and the sudden change from Monday to Tuesday left Beck almost dizzy.
"The offenses are very different," he said. "I feel like a rookie coming in today where it's your first OTA and your head is spinning a little bit, trying to get concepts down, verbiage. I'm just trying to get accustomed to the words and have them make sense so when I hear them I know what's being done."
Beck at least had some comfort level with the Ravens when he joined them because their offensive coordinator, Cam Cameron, had been Miami's coach.
Beck will be studying the playbook while his wife Barbara looks for a place to live and organizes the family move. They have two children.
"It's kind of funny, the timing," he said. "We just dropped off a check yesterday for preschool."
Imagine. His three-year-old son Ty has to transfer. Just like his dad.
---
Larry Weisman, an award-winning journalist during 25 years with USA TODAY, writes for Redskins.com and appears nightly on Redskins Nation on Comcast SportsNet. Read his Redskinsblitz blog at **Redskinsrule.com* and follow him on *Twitter.com/LarryWeisman*.*