For most of the season, John Beck figured he was two disasters away from playing.
That's life for the third-string quarterback on game day.
Practice doesn't really help with the climb of up the ladder. The No. 3 – oddly, that's also Beck's jersey number – runs the upcoming opponent's plays on scout team and takes no reps with the starting offense.
Beck's life changes now. He moves up the depth chart this week, becomes the backup to incumbent starter Rex Grossman.
"This opportunity is a good one for me. I feel more comfortable with the offense now. I think my last opportunity was during the preseason when I'd only been here a couple of weeks," Beck said Monday.
The Redskins acquired him from the Baltimore Ravens in a trade during training camp. There was little in the Redskins offense that was similar to what the Ravens did, as there was little in the Ravens' playbook that carried over from Beck's initial foray into the NFL in 2007 with the Miami Dolphins.
A second-round pick in '07, Beck played in five games and started four for a team that would finish 1-15. He threw one touchdown pass and three interceptions, fumbled seven times and lost five.
He didn't play in any of Miami's games in '08, went to the Ravens in '09 and never played, then got dealt to the Redskins. He knows his past is behind him and better times await.
"That was tough. That was a rough spot in Miami years ago. I went to Miami, supposed to be the guy that would take over the reins and be the future there. And through a bad season there, you get dropped in the bottom of a hole and you have to dig your way out," Beck said.
That's why he'd like to stay put. Absorb this offense. See it for a second year.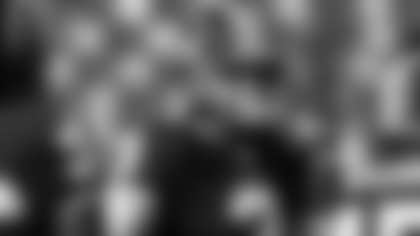 "Everywhere I've gone I've had to learn a new offense and establish myself, so I'm kind of used to it. If I can stay here and be on the team next year, it'll be my first time in the NFL I've been able to have the same offense for back to back years. And that's what I want. You've seen the guys that have to go from offense to offense," he said.
Beck's role in practice might not change that much. Coach Mike Shanahan said Monday he would not ask Donovan McNabb, deposed as the starter after 13 games, to run scout team and expected Beck would continue to do so while stealing a few reps with the Redskins offense from Grossman.
Though he seemed to indicate last week a hope to look at Beck in a game situation, Shanahan is most inclined to keep eyeballing Grossman rather than Beck.
"Rex is going to be our starting quarterback. Unless something happens," Shanahan said, "he (Beck) won't get a chance."
Things do have a way of happening, though.
"You're one play away," Beck said. "For the last 16 weeks, it's been two plays."
---
Larry Weisman, an award-winning journalist during 25 years with USA TODAY, writes for Redskins.com and appears nightly on Redskins Nation on Comcast SportsNet. Read his Redskinsblitz blog at Redskinsrule.com and follow him on Twitter.com/LarryWeisman.