Redskins equipment manager Brad Berlin, now in his ninth season with the team, oversees all aspects of the equipment and locker rooms at Redskins Park and FedExField.
Berlin's responsibilities include the purchase and maintenance of all team equipment, as well as outfitting players, coaches and other football staff for practices and games, special community service and media events throughout the year.
The daily schedule in the equipment room doesn't vary all that much. Mornings are spent making sure all of the laundry from the previous night is out, packing for the next game and doing maintenance on equipment.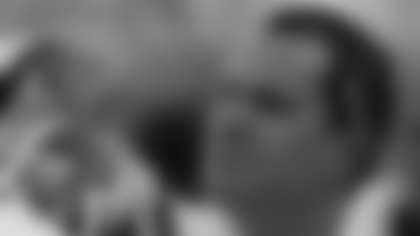 Brad Berlin (Don Wright Photo)


"Every day we work on something different," he said. "Shoulder pads one day, helmets the next, then shoes for the next game. Afternoons are spent at practice, and as soon as the coaches and players are off the field, it's time to do laundry.
"If there's one constant about every day in the equipment room, it's laundry."
During the season, Mondays and Tuesday are the big "push" days to get ready for the next game.
That may involve re-stocking any supplies that were used at the last game, or getting coaches and players uniforms back from the cleaners and packing them away.
Since the distance from Redskins Park to FedExField is about 50 miles, homes games are like road games for the Redskins' equipment staff. The entire equipment operation has to be moved to the game venue.
Says Berlin: "You have to take the time and make sure you have everything you need so you don't have to run back out to Redskins Park because you forgot something."
Berlin has nine years of experience on the collegiate level, beginning his career as head equipment manager with Utah State in 1992. He moved on to oversee operations at Colorado State from 1994-98, and then joined Missouri.
He spent the 2000 season with Louisville as the assistant athletic director for equipment.
He joined the Redskins in 2001. He is currently assisted by Anders Beutel and Chris Collins.
A native of Marshall, Mo., Berlin received his Master's degree in education and sports management at the University of Missouri in 1993.
For all 32 NFL equipment managers, the biggest challenges are always weather and travel.
Weather dictates everything, including how players dress, what they pack, and what shoes they wear during games.
"The most enjoyable part of my job is being in a support role involving a very close-knit group of people," Berlin said. "It's a year-round job for those 16 weeks in the fall, it makes all of the effort worthwhile."