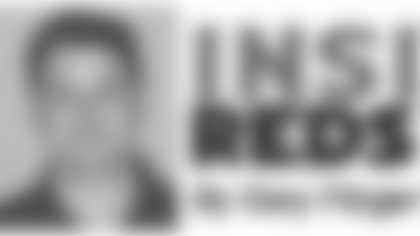 It caught everyone by surprise.
The Redskins had defeated the Detroit Lions 25-17 last Sunday, the defense had yielded just 274 total yards and 57 rushing yards...and defensive coordinator Greg Blache was chastising his players in a post-game television interview.
He even used a phrase that has since caught on at Redskins Park: "We played like the south end of a northbound skunk."
Blache, ever honest, expected more from his players.
"Last game, guys showed up and they worked, but it wasn't with the same pride and the same purpose that I like to see from our defense," Blache said. "I think we have a special group and it's disappointing when they don't work up to their standards and their abilities."
In practice this week, Blache has been pleased with how his players have reacted.
"We practiced with a purpose," He said. "That's all I ever ask my guys to do--to do their best. There's a huge difference between trying your hardest and doing your best. We'll live with the results as long as they do their best."
The Redskins' defense is ranked sixth overall in the NFL, fifth against the run and 11th against the pass. They allow an average of 278.1 total yards per game.
It's clear that this is a good--potentially great--unit.
He is in the film room every day studying the strengths and weaknesses of his players and he knows them better than anyone.
"We can't just throw our hat in the ring and expect to win football games," Blache said. "That's just who we are. We get up in the morning, we wash our face, we put our makeup on and we comb our hair--or else nobody is going to ask us out. We're not that good looking."
Success is in the details, Blache said.
The defense has produced just 10 sacks, ranking them 30th in the league in that category.
And they have forced just eight turnovers.
So there is work to be done.
"As a whole, this group is very aware and very proud," he said. "I think we have the ingredient to be a very good football team and I think we know the recipe. But having the ingredients and the recipe is nothing unless you're a good chef. It's just a matter of cooking it up."
This week, the defense matches up against a Pittsburgh Steelers team that is ranked 25th overall in the NFL.
The Steelers present matchup problems with quarterback Ben Roethlisberger, running back Willie Parker and wide receivers Hines Ward, Santonio Holmes and Nate Washington.
Parker has been slowed by a knee injury, but he is expected to be back for Monday Night. His replacement, Mewelde Moore, is averaging 5.0 yards per carry.
Roethlisberger has completed 60 percent of his passes for 1,352 yards, 10 touchdowns and seven interceptions.
Ward is his top target with 31 catches and five touchdowns. Holmes is next with 22 catches, followed by tight end Heath Miller with 21.
'They are very balanced," Blache said.
Blache expects the game to be nip and tuck down o the wire.
"We're going to be fighting them to win the football game on the last drive, because that's the type of team they are," he said. "I just see them as one of the best teams in the NFL right now."