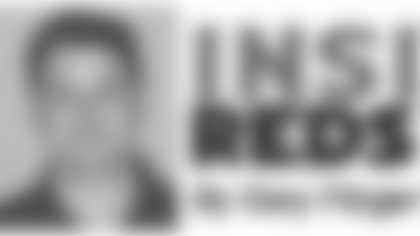 A year ago, Greg Blache was considering retirement from coaching in the NFL.
On Wednesday, Blache said that he is willing to return for another season as the Redskins' defensive coordinator.
"Right now, yeah, I'm up for it," Blache said. "It has been fun. If I have the same quality of people to work with, then it's easy to come to work. You come to work and you trust guys that they're going to line up and compete, and you trust them with each other and for each other--that's what this business is all about."
Blache has said several times this season that he enjoys working with the players on the Redskins' roster.
He suggests they embody an attitude that is rare to find in today's NFL.
"In this day and age where football has become a 'me-me' game, a 'look at me, look at me' kind of deal, to have a group of guys who are unselfish and who can compete and look out for each other, it's refreshing," Blache said. "If I had a bunch of 'look at me' guys, I would head to the hills in a heartbeat."
Blache has found success using what he calls an old school approach.
"I'm a dinosaur," he said. "I'm from a different age. A lot of the stuff that happens in this game is not to my liking. But if I have a group like I do, it makes it so much more fun to come to work every day."
Blache also praised his assistant coaches on the roster, including secondary-cornerbacks coach Jerry Gray, safeties coach Steve Jackson and linebackers coach Kirk Olivadotti.
"We've been together so many years that we kind of work off of each other," he said. "Those guys feed me so much information. They are so strong at what they do. I just kind of sit on the bus and ride it. I don't even drive the bus. I just ride along. Those guys are the power.
"So for me, this has been my easiest year coaching that I ever remember having. The only disappointing thing is dealing with [the media]."
Blache's defense has been among the NFL's best this season. The unit is ranked fourth overall, eighth against the run and sixth against the pass.
Through the course of the season, Blache has been reminded by the media that his defense has struggled to record sacks.
Blache has consistently fired back that the defense is still among the league's best despite the lack of sacks.
"We are who we are," he said. "We're not going to be a great sack football team, but we're still managing to be [an elite defense]. You can accept us and like us, or not, but we are who we are. We're fortunate enough, despite our weaknesses, to still have been successful.
"That's a credit to our players and that's a credit to our coaches. We're still one of the better defenses in the league statistically. I'll take where we are and the sack numbers being at the back of the league.
"There's more to football than just numbers. We have guys who don't give up big plays, who run to the football, who play hard for 60 minutes. We have guys who take great pride. And a lot of those things are a lot more important [that statistics]."
Once the offseason arrives, Blache is expected to have some input on personnel decisions, although he downplayed that role on Wednesday.
"I'm a coach," he said. "I know very little about personnel and I know nothing about money. I'll coach them. Whoever is here, I'll coach them as best as I can and we'll go from there."