Burgundy throwback uniforms and Redskins from the glory years are staples in the annual Redskins Alumni Homecoming game at FedExField. But this year, a special ceremony put an exclamation mark on the day for the famed former general manager Bobby Beathard.
As the selected non-player contributor for the 2018 Pro Football Hall of Fame class, Beathard was honored with a special ring, presented by the Pro Football Hall of Fame president David Baker at halftime of the team's matchup with the Texans.
Beathard was inducted because of his widespread success as a general manager in the NFL. He spent time with the Kansas City Chiefs, Miami Dolphins, San Diego Chargers and of course the Washington Redskins. With the Redskins, Beathard built a team that won two super bowls, by trading back in the draft and signing key free agents. Beathard is credited as being the first general manager to aggressively trade back in drafts in order to secure more picks, something that's become common-place in the league.
And while Beathard is well-known for his talent of acquiring talented players, possibly the biggest get of his Redskins career might have been his decision to hire head coach Joe Gibbs, who led Beathard's team to super bowl wins in 1982 and 1987 (Gibbs won again with the Redskins in 1991).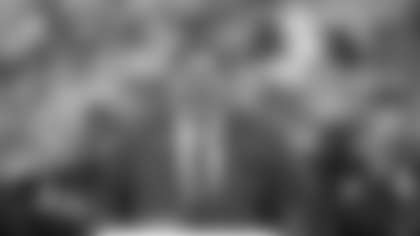 All in all, Beathard's NFL career lasted 33 years and included seven super bowl appearances and four super bowl wins.
Pro Football Hall of Fame president David Baker was at the game and presented Beathard with his Ring of Excellence during halftime. Baker said Beathard's accomplishments as a general manager greatly changed the future for many Hall of Famers, namely many of the Redskins alumni in attendance for Sunday's homecoming game.
"Well you know, since we're in Washington, D.C. here I think I can quote [President Abraham] Lincoln who said 'A Nation that fails to honor its heroes shall not long endure,' and I think that's true of a sport as well. The best way for the National Football League to pave its way into its next century is by remembering the guys upon this shoulder this league stands," Baker said. "And I think Bobby [Beathard] is clearly one of those guys along with guys Kenny Houston and Sonny Jurgensen and for that matter other guys like Joe Jacoby. Remembering the guys who built this league is the best way to start the future."
Hal of Fame inductees are given three icons to commemorate their induction. A bronze bust representing each Hall of Famer in Canton, Ohio will last 40,000 years Baker said, cementing the inductee's place in NFL history. In addition, they're given a signature gold jacket, and a personalized Ring of Excellence. Beathard's ring has his name and likeness, as well as his accomplishments are etched on the outside of the gold band. The center is a blue gem, surrounded by diamonds.
"He was an architect of greatness in many respects and today will be a fun halftime to present him his ring," Baker said before the game. "There's a lot of other Hall of Famers from the Redskins who are here to support him."