Colt Brennan is in his second year in Washington and is competing to be a backup to starting quarterback Jason Campbell. Brennan spoke with Redskins.com's Jake Luce after a June OTA practice about his progress as an NFL quarterback.
Q: What are your goals this season?
A: "My goal is to get better in practice, understand the offense more and act more like a starting quarterback. I have to have an attitude that, if I'm called upon, I can do the job. It takes a lot of work. You've got to put in the time in learning the playbook and you've got to be a leader.
"When it comes time for preseason, I want to have four great games and I want everybody to step back and say, 'Wow, look how much the kid has grown from last year.'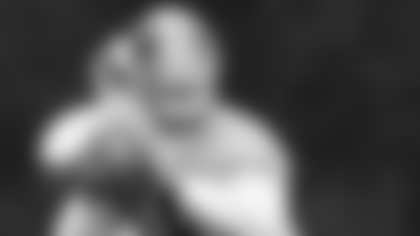 "When it comes time for the regular season, I just need to be ready because you can never predict anything. I want to be ready so that, if I'm called upon, we're not going to be taking a step back.
"It's going to be, 'Let's go have fun with this new kid under center.'"
Q: Fourteen-year veteran Todd Collins was Jason's primary backup last year. Do you think you can take that job away from him?
A:"Todd is a tough guy, and he kind of has a little bit of Brett Favre in him. You can tell that he still has a lot of youth in him and he still has a burning desire to play.
"For me, I have to come out here and do all I can in practice. Ultimately, I think it's going to come down to how we perform in the preseason."
Q: How do you view the competition with Collins?
A: "I think it's a healthy competition. He's always there and if I need help, he will help me. That's just the way he is--he's a good guy like that. When I first got here, he was a vet who would poke fun at you here and there, but now in my second year he has definitely opened up a bit."
Q: What can you do to help Jason Campbell excel this year?
A: "It's about pushing Jason to be a better quarterback. It's about Jason knowing that other quarterbacks on the roster are ready to come in if there's an injury.
"Considering all the things that have happened this offseason, I think you can see Jason is much more driven than he was last year. I think last year he was trying to get comfortable in this offense. This year, you can tell he's got a lot more determination in what he wants to do and what he wants to become. In this league it all comes down to what happens on Sunday.
"For me, I don't know how much Jason and Todd will play in the preseason, but I know I'm going to play a lot. I think if I can have another good preseason, it will put me in the driver's seat for people to continue to recognize me as a starting quarterback in the NFL one day."
Q: How do you view your competition with Chase Daniel?
A: "I think it's just about me growing right now as a quarterback, not taking any steps back and continuing to push forward. All four of us get along and we are all good guys to each other. It's pretty healthy competition.
"I've got to continue to improve. I'm a much better quarterback than I was last year and I'm on the verge of being a much better quarterback with every practice that goes by."
Q: What has Jim Zorn taught you to help you adjust to the NFL?
A: "Coach Zorn works on my feet continuously. He feels that once I get my feet straight, that will put me on the right rhythm and allow me to time out this offense better. He is always pushing me, and at the same time he is always there to work with me and tell me what I'm not doing right.
"Coach Zorn was an NFL quarterback once, and he has been a quarterback's coach for a long time in this league, so you know that he is the right guy you want to listen to."