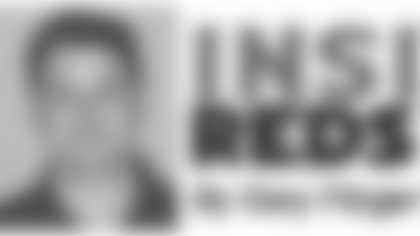 Apart from place kicker, the Redskins' most intriguing competition in Thursday night's preseason finale in Jacksonville was at quarterback.
Specifically, the No. 3 quarterback.
Colt Brennan vs. Chase Daniel.
They are young and untested, and yet they both have a fervent following.
After starter Jason Campbell departed the game after one series, Jim Zorn turned the offense over to Brennan and Daniel.
Heading into Thursday night, Brennan had struggled, throwing three interceptions. Daniel had shined in his lone preseason outing, throwing two touchdown passes.
The Redskins' second-string offensive line competed against some first-team Jaguars and struggled in pass protection.
Daniel was chased out of the pocket time and again.
In four series, Daniel completed 3-of-8 passes for 19 yards. He was sacked once and forced to scramble three other times.
In the second quarter, Daniel committed a costly turnover. He dropped back to pass and was quickly pressured by linebacker Quentin Groves. As he was hit, the ball was jarred loose and recovered by defensive tackle Derek Landri at the Redskins' 15-yard line.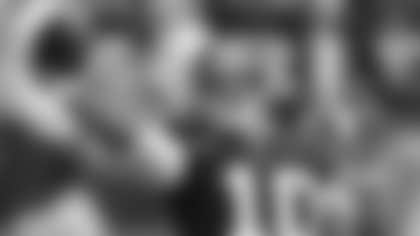 Chase Daniel from Week 1
in preseason. (AP Photo)


Two plays later, the Jaguars scored on a 10-yard touchdown from quarterback David Garrard threw to wide receiver Mike Sims-Walker. A 2-point conversion gave Jacksonville a commanding 21-0 lead.
Brennan took over the reins midway through the third quarter.
Early in the fourth quarter, Brennan guided the Redskins downfield, completing a series of passes to Trent Shelton and Marko Mitchell.
Dominique Dorsey capped the drive with a 3-yard touchdown run up the middle, but Brennan was 5-of-8 for 58 yards in leading the offense.
Midway through the fourth quarter, Brennan aggravated a hamstring injury and left the game. He was evaluated on the sideline by athletic trainers and appeared to be in some discomfort.
Brennan finished the game with 10-of-14 completions for 83 yards.
Daniel was ushered back into the game after Brennan's injury.
With 1:54 left in the game, Daniel had an opportunity to run the Redskins' 2-minute offense.
He found Anthony Alridge across the middle, and the speedy back reversed field and picked up 26 yards. Then Daniel threw a 25-yard pass to Keith Eloi, who made a leaping grab at the Jaguars' 1-yard line.
On 3rd-and-goal, Daniel tossed to Todd Yoder across the middle for an apparent touchdown, but the play was reversed when replay revealed Yoder did not hold on to the ball.
So Daniel came back on 4th-and-goal. He threw to Mitchell, who cut in front of his defender and pulled in the pass for a 4-yard touchdown.
Overall, Daniel finished the game with 8-of-16 completions for 85 yards to go along with the touchdown pass.
Jim Zorn and the offensive coaching staff will make their final decision on the No. 3 quarterback sometime in the next two days.
"Colt had a really nice drive--what a nice drive he put together at the end there," Zorn said. "Chase had a little more difficult time when he first got in the game. They had some starting defensive guys in there and we had a hard time protecting him early, but we got the job done later."
Brennan's injury status will be updated on Friday.
Brennan finished preseason with 23-of-43 pass completions for 249 yards, one touchdown and three interceptions. He was sacked seven times. His QB rating was 49.5.
Daniel, who played in just two preseason games, was 14-of-24 for 143 yards and three touchdowns. He was sacked three times and his QB rating was 115.1.