As the April 26-27 NFL Draft unfolded, Colt Brennan had accepted he might not be selected at all.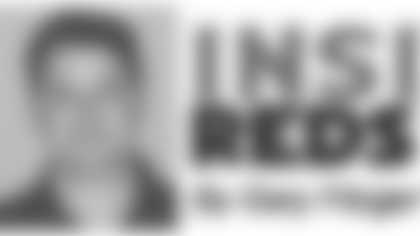 His decline was a surprising development, to be sure.
One of the top college quarterbacks last year, Brennan set 31 NCAA records at Hawaii. He completed 70.1 percent of his passes in college and threw a remarkable 154 touchdowns.
Brennan figured his disappointing performance in the Sugar Bowl against Georgia would be a factor on draft day. He completed 22-of-38 passes for 169 yards and three interceptions in Hawaii's 41-10 loss to the Bulldogs.
Then, at the Senior Bowl, he played through a shoulder injury and struggled in limited action, completing just 2-of-6 passes for 29 yards and one interception. He was also sacked twice.
Despite all of that, Brennan still had hopes to be one of the top quarterbacks selected in the draft.
That didn't happen. The draft continued into mid-afternoon on Day 2, and still Brennan's name had not been called.
Finally, the Redskins selected him in the sixth round, 186th overall.
"I was hoping to be a high draft pick just because of the success I had," Brennan said afterwards. "As I went through the draft process, I went through a lot of adversity and I realized that the possibility of me dropping was there. It started happening, and I really started figuring, 'Maybe I may not even get drafted.'
"So just to get the phone call and hear that I am a Washington Redskin--it was a tremendous feeling. Growing up as a kid, wanting to play in the NFL, it is just a dream come true."
When he gets an opportunity, be it in the preseason or regular season, he hopes to pay back the Redskins organization for taking a chance on him.
"Washington stepped up and I owe them so much," he said. "I can't wait to get out there and show them it was worth it."
Since arriving at Redskins Park, Brennan has had to watch and wait.
On April 7, Brennan had hip surgery which sidelined him for the team's mini-camp on May 2-4.
He watched and learned as starter Jason Campbell, backup Todd Collins and second-year player Sam Hollenbach took most of the reps.
Brennan looked anxious at times, eager to toss a football with someone, anyone. But coaches and athletic trainers kept on reminding him that his hip wasn't healthy enough yet.
When the Redskins resume OTAs on June 2, Brennan could be ready to participate in the quarterback practice rotation.
"I'm going to work hard with the rehab and training, and hopefully get cleared to participate in the OTAs," Brennan said recently. "And then I'll just take it from there. I don't want to push it and I don't want to set myself back. I want to let the doctors keep me steady and going in the right direction."
When he is cleared to practice, Brennan will be a developmental prospect for the Redskins.
He played in a classic run-and-shoot offense at Hawaii, which is one reason why he was able to post such impressive offensive numbers. Last year, he completed 359-of-510 passes for 4,343 yards, 38 touchdowns and 17 interceptions in 12 games. He finished third in Heisman Trophy voting.
"The thing I look for in a quarterback is, can he hit what he is throwing at?" head coach Jim Zorn said. "Colt has done that. He has been a 70 percent passer. Whatever level and whatever type of defense you are going against, to have a 70 percent completion, that is great accuracy. You can see that in many of Colt's games in the last couple of seasons. You can see his accuracy.
"He has the ability to move around, too. He is a 4.7 runner in the 40. His lateral movement and his ability to get himself in the position to throw the ball after a play breaks down--it's tremendous."
Those attributes could make Brennan, listed at 6-3 and 201 pounds, a good fit for the West Coast offense that Zorn is implementing in Washington this offseason.
Brennan said he worked in a West Coast offense at Mater Dei High School in Santa Ana, Calif., where he grew up. He also learned the system at the University of Colorado for one year, before transferring to Hawaii in 2005.
"I have some background in it," he said. "I can't wait to get back to it. I know I can run it."
"It's the offense I grew up in out in Southern California," Brennan said. "I have some background in it. I know I can run it."
Brennan has played quarterback his entire life, from Pop Warner to the NFL.
So whatever system he is in, he feels confident he can adapt--and succeed.
"I think I am just a really diverse kid who has a lot of passion for the game of football," he said. "I've been through some ups and downs in life, and I have a lot to prove. I can't wait to get out there and show the team and the community that I can be a great football player."