Growing up in east Georgia, Durant Brooks was an aspiring punter with one advantage: legendary NFL punter Ray Guy was a family friend and helped tutor the young Brooks in high school.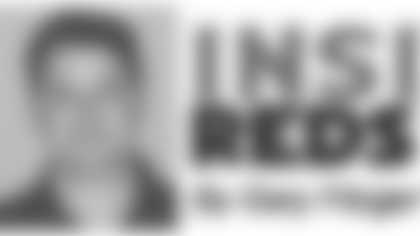 "My mom and Ray Guy were from the same town [in Thomson, Ga.] and I went to two of his camps," Brooks said. "He would always run into my mom at the grocery store and ask how I was doing. He'd say if I ever needed anything, just give him a call."
It's appropriate, then, that Brooks would go on to win the Ray Guy Award at Georgia Tech last year. The award is given annually to college football's top punter.
"We didn't work together too much in college," he said. "He didn't want anyone saying I was getting the award just because he is a friend. I have worked with him since [receiving the award], and he has been really great helping me."
Brooks would go on to be selected by the Redskins in the sixth round of last April's NFL Draft.
He finds himself in a preseason competition with incumbent punter Derrick Frost, a four-year veteran.
Come training camp, Brooks knows he must either earn a roster spot as the Redskins' punter--or start looking for a job.
"There is no backup for the punter, obviously," Brooks said during OTAs. "One of us is going to win the job. Somebody has to do it. So you have to come out every day and prove yourself. You're always being evaluated. It's going to be intense competition."
As the only punter selected in the NFL Draft, Brooks is up for the challenge.
Brooks, 6-0 and 204 pounds, played two seasons for the Yellow Jackets and set school and conference records, averaging 45.3 yards on 144 punts. His net average was 40.6 yards.
With the Redskins, Brooks has another mentor--in special teams coordinator Danny Smith--to learn from as he tries to unseat Frost and earn a roster spot.
Smith worked with Brooks during a pre-draft workout in Georgia.
"I really clicked with Coach Smith and he seemed real enthusiastic about trying to draft me," he said. "It wasn't a total surprise, but I'm glad it happened."
Said Smith: "[Brooks] has a powerful leg and I think he has game. The timing was right to draft a punter."
Brooks knows he must show more than a powerful leg, though. That can only take him so far.
During OTAs, Smith worked extensively with Frost and Brooks on directional kicks.
"I need to work on my consistency," Brooks said. "I have old habits that I have to get out of. It's going to take a lot of work and a lot of repetitions."
What specifically does he need to work on?
"Coming across my body and not keeping my head down with my leg," he said. "I lose a lot of my power. I still hit a decent punt, but they can be a lot better. My legs coming across--that affects my placement of where I put the ball. Danny has done a great job on that."
Consistency has also plagued Frost at times during his NFL career.
It's safe to say that the most consistent punter in training camp should win the job in preseason.