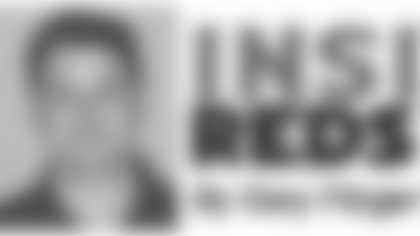 First day of a new football season.
First day of training camp.
Suddenly, Alex Buzbee felt a twinge in his right foot.
He sat on the ground as athletic trainers rushed to him in the middle of the practice field.
Buzbee, it turned out, had ruptured his Achilles while backpedaling in a punt coverage drill.
It was a crushing injury for the second-year defensive end out of Georgetown.
Buzbee had shown great strides in the 2007 offseason and was expected to emerge as a solid backup in training camp.
Instead he had to undergo season-ending surgery to repair the Achilles.
"It was real tough," Buzbee said after a rehab session at Redskins Park last week. "I felt like I had a real good offseason and I had a good opportunity to compete for some playing time.
"You know that nothing is guaranteed, but I felt like I was robbed of an opportunity to go play. It was a tough pill to swallow."
That same practice, the Redskins lost veteran defensive lineman Phillip Daniels to a season-ending knee injury.
The pair of injuries set in motion the Redskins' decision to trade for Jason Taylor from the Miami Dolphins.
Six months later, it's uncertain if Daniels, Taylor and fellow defensive end Demetric Evans will be back in the Burgundy and Gold next season.
So Buzbee could find himself with the same opportunity for playing time, depending on how the front office addresses the defensive line this offseason.
Buzbee remains focused on his rehab, though.
"It's going well," he said. "I'm coming along every day. My goal is to be ready for off-season conditioning, which starts [March 16]. So I have time.
"I'm [at Redskins Park] every day, coming along. I've started jogging a little bit and I'm getting my strength and flexibility back."
As Buzbee increased his rehab, he got his confidence back.
"We hit it pretty hard once we start off-season conditioning in mid-March, so I'm just trying to keep my cardio up and really strengthen that foot," he said.
Buzbee first caught the Redskins' attention at Georgetown, where he was a four-year starter and totaled 27.5 sacks.
He signed with the Redskins as an undrafted rookie free agent on May 15, 2007 and spent the bulk of his rookie campaign on the practice squad.
Last year, Buzbee's hopes for a breakthrough season ended before it really started.
His goal now is to be fully healthy.
"Ultimately I'm focused on competing again for a job," he said. "I'd love to be at 100 percent when we start training camp, and I expect I will be. Than I can take it from there and try to earn a job."