There's an argument being advanced that the Redskins should relent. That Mike Shanahan should back off and let Albert Haynesworth be.
Why should Haynesworth be held to a different standard? Why should he have to pass a conditioning test when no other player is asked to do so at training camp?
This is what the critics want to know.
Maybe those are the wrong questions. Maybe the question should be this: Who sets the standards for the Redskins?
The answer is Shanahan, not Haynesworth. Shanahan. Ask the players.
"I think discipline is key. His rules are his rules and we have to go by them," defensive end Phillip Daniels said Friday after the Redskins completed another practice just hours after Haynesworth again failed to meet the requirements of the conditioning drill.
"You want somebody that's been there and won Super Bowls to lead you and if he tells you something, then you listen and you do it. With him (Albert) not being here, it just kind of set him back and now he has to run this test."
Haynesworth let it be known he felt promises were broken last year about how he would function as a defensive tackle in the club's 4-3 defense. That he never would have considered signing with a team playing the 3-4 defense in the first place, which the Redskins now are implementing.
So he stayed away. He skipped all but one day of voluntary programs – conditioning, mini-camps, organized team activities. He was within his contractual rights to do so. He also ditched a mandatory minicamp and that's a violation. He separated himself from the club. Now he must earn his way back in.
Head strength and conditioning coach Ray Wright said players were informed that if they had participated in less than 50 percent of the off-season work, they'd face this test. Others took heed. This was not created with only Haynesworth in mind.
"When Albert does pass the test, he'll be on that football field and he'll be going 100 miles an hour," Shanahan said, adding that he is not trying to make an example of Haynesworth. "I just think that the best thing is to be in the best football shape he can be in … and I don't want to put a guy out there before he's ready, before I know he's in shape.
"I know it's the best thing for him. He may not know it at this time but I can guarantee you the big linemen, the big guys I've been with that are in the trenches, need to be in shape. This has been a part of our workout program for a long time."
So has a sense of order. Too often last year, players complained of different rules for different people. A lax system killed accountability.
Anyone paying attention during the off-season work saw an intense focus on conditioning and on running. More aggressive philosophies on both sides of the ball emphasize speed and attacking.
When Haynesworth can complete the conditioning drills, he will join his teammates in their normal workouts.
"Our guys go through this all the time. This is not a big test. This is something we do every day," Shanahan said. "Most people could do this test in their sleep. It's not as big as it may sound."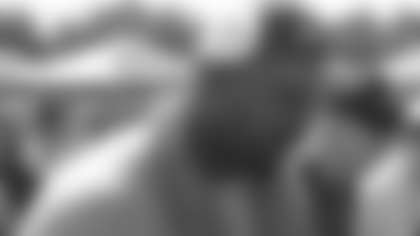 Haynesworth appears leaner than in 2009 but that's not enough. He will attempt these two sets of 300-yard sprints, broken into 25-yard increments, again on Saturday. He must complete the first in 70 seconds and the second, after a three and a half minute break, in 73 seconds. Those are the numbers established for offensive and defensive linemen.
"He looks good. You can tell he's in way better shape than last year," Daniels said. "He just has to get through that test."
It's not so unusual for a player to struggle with this.
As rookies, receivers Malcolm Kelly and Devin Thomas did exactly that. When they got themselves right, they won the right to practice. Baltimore Ravens rookie defensive tackle Terrence Cody failed on his first day. He passed on the second day. This happens.
What cannot happen is the excusing of failure. What coaches cannot do is indulge individuals. There are a lot of other players in the locker room and they know what has been asked of them and what the price is for not taking care of business. None of them wants to see last year's dynamic recreated.
Players who took part in voluntary work got their running in. They worked with the staff on strength and conditioning and there are file cabinets full of their achievements. Haynesworth opted out.
Asking Shanahan to back away from his coaching philosophy makes no sense. Asking him to put a player on the field that he deems unprepared to compete makes no sense. Asking him to surrender the very authority the club vested in him would be asking him to allow the players do his job.
The locker room will back the coach when clarity exists, and it does. Actions have consequences. Rules and standards exist for sound reasons.
When Haynesworth can complete his drills, the Redskins will put him to work. They know they can be better with him than without him. They won't go back to a time when some players studied less than they needed to or worked with less intensity than others. Everyone can be treated the same when all of them shoulder the same responsibilities.
Maybe Saturday is that day for Haynesworth. Shanahan never asked any more of him than any other player. He got less, far less, from the player with the richest contract on the team.
Shanahan did not impose different standards on Haynesworth. Now he asks him to meet the same ones as every other member of the team, so that he can be exactly that – a member of the team.
Shanahan sets the bar. Handing out free passes is not his way. He asked players to work harder, he put in new schemes on offense and defense and he wants to win.
Why ask him to sacrifice a plan for 53 men to please one?
---
Larry Weisman, an award-winning journalist during 25 years with USA TODAY, writes for Redskins.com and appears nightly on Redskins Nation on Comcast SportsNet. Read his Redskinsblitz blog at **Redskinsrule.com* and follow him on *Twitter.com/LarryWeisman*.*