The Redskins' bye week has arrived.
Players welcomed the respite after eight games of the regular season, even though they have two weeks to think about the disappointing 37-25 loss to the Detroit Lions last Sunday.
Many departed the Washington, D.C., area following a Tuesday morning practice at Redskins Park.
Of course, the bye has also offered players an opportunity to escape the Donovan McNabb drama of the last few days.
Ever Since McNabb was benched late in Sunday's loss in Detroit, players have been inundated with questions surrounding the Redskins' quarterback.
Wide receiver Anthony Armstrong, whose locker is adjacent to McNabb's, was asked how McNabb was handling the controversy.
"He's a pro's pro, but shoot, I'm the new guy, I can't tell him how to act," Armstrong said. "He has been in the league 11 years. He knows how to handle everything."
Armstrong has bye week plans to travel back to Carrollton, Tex., to spend time with his family.
McNabb? He is headed home to Phoenix, Ariz., for a bye week breather and to heal up hamstring and quad injuries.
Clinton Portis? He is headed to Russia, or so he says. You can never really believe much of anything Portis says.
Head coach Mike Shanahan plans to get away as well, but first he wants to review film, re-evaluate players and come up with a game plan for the second half of the season.
"We're going to be looking over the things that we can improve upon," Shanahan said. "That is what is good about the bye week. We will look at ourselves, analyze this and have a game plan when the players come back.
"We are at the halfway point of the year of where we need to go to hopefully finish with a very good record."
Some of the defensive coaches worked overtime on Monday so that they could depart for the bye week after Tuesday's practice.
Defensive coordinator Jim Haslett is headed home to St. Louis to spend time with his family and watch his son play Chase play high school football.
"My son has a playoff game so I'm excited about that," he said. "I'm going to go home and watch him play for the first time this year. Hopefully it's not his last game."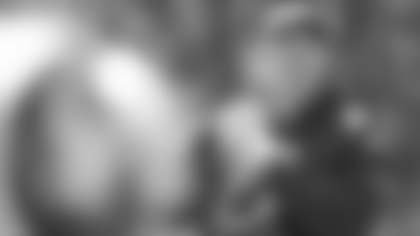 The Redskins' defense is ranked 31st in the NFL in yards allowed, but they are tied for first with 19 interceptions and forced fumbles.
That has been an emphasis ever since Haslett took over the defense last January.
Haslett's decision to implement a 3-4 defense this season remains closely scrutinized, but he has adjusted as he has gotten to know his personnel as the weeks go by.
"You kind of learn something new about these guys everyday you're with them," he said. "I think the last couple of weeks, we got a really good feel for where we're at, how to use guys and take advantage of everybody's ability. When you switch a scheme and change things, it does take some time.
"I didn't think you would still be in this process at this time, but I think we have a good handle on it right now."
One of Haslett's success stories has to be Lorenzo Alexander, who has played well as an unheralded outside linebacker.
"The more the coaches are around us, the more they know what we do best," he said. "They can put us in positions that use our skills a lot better."
For the bye week, Alexander plans to relax at home. Don't expect to find him on Facebook or Twitter, though.
"I'll just chill out, get off the grid a little bit, no tweets or email," he said. "Just spend time with the family."
Players have off until next Monday, when they begin preparations for the Nov. 15 game against the Philadelphia Eagles at FedExField.
That's a Monday Night affair. Expect the spotlight and the scrutiny to return to Redskins Park.