Learn a new offense? Jason Campbell knows the routine.
So when the Redskins hired Jim Zorn last February, Campbell buckled down to begin a familiar process.
Study the playbook. Adapt skill set and technique to the system. Apply what you've learned in practice. Study the playbook again.
This time, it's the West Coast offense. Zorn's version is expected to be similar to Mike Holmgren's in Seattle, where Zorn was a quarterbacks coach from 2001-07. Zorn's passing game is expected to emphasize more short and intermediate routes.
For Campbell, it's now seven offensive systems in eight years.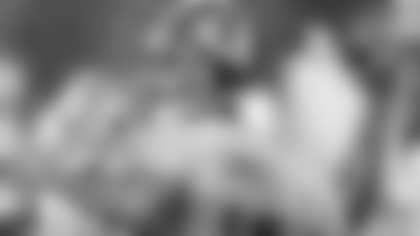 Jason Campbell (Ned Dishman Photo)
So he knows what it takes to learn a new offense.
"You have to stay in your playbook," he said. "It's definitely an offense that you have to get in, you have to study, and you have to set time aside for yourself to prepare yourself day-in and day-out. It's a good offense though. We have a quick passing game. The ball gets out of your hand quick."
It has been a day-to-day process learning the offense, Campbell added.
After running a series of plays each practice, Campbell goes home and, in his playbook and in his memory, he runs through all of them over and over again.
Campbell has a foundation in the West Coast offense. He played in the system during his senior year at Auburn in 2004. That year, he guided the Tigers to a 13-0 record and staked a claim of the NCAA National Championship.
"It gives me an idea of what we are doing and how the offense goes," Campbell said. "That really helped me a lot. It is a little bit different terminology, but for the most part I have seen it before."
Entering his fourth NFL season, Campbell has started 20 games in his career. He has completed 360-of-624 passes for 2,700 yards, 22 touchdowns and 17 interceptions.
His 2007 season ended prematurely when he suffered a dislocated kneecap injury in Week 13. Campbell has fully recovered from the injury.
This offseason, Campbell has forged a strong bond with Zorn.
On the first day of training camp, Zorn interrupted a Jason Campbell media session and asked his young quarterback a question.
"How's your arm?" Zorn asked, jokingly.
Replied Campbell: "I might have thrown too much."
In all seriousness, Campbell said he felt "a little further ahead" in learning Zorn's offense than during the off-season work.
"This is the second go-around at it," he added. "You are a step ahead of where you were before. I thought the receivers ran routes crisp, too."
One adjustment is the tempo of Redskins practice.
Campbell noted it was faster-paced than mini-camp and OTAs.
"That's the first thing that Coach Zorn wants out of us," Campbell said. "Once we get to the line of scrimmage, we are going. There is no waiting around on defense. There is no waiting on someone to get set.
"[Coaches] are teaching everyone to be disciplined and teaching everyone once we start to roll with the offense that we're not waiting on anyone. We want it to be fine-tuned and ready to go."
Words spoken like a true leader.
Leadership is another skill that Campbell has had to develop. While Clinton Portis is the face of the Redskins' offense, the team knows that it's Campbell who must lead this team in 2008.
"As a quarterback, you are always under a microscope," he said. "You have to prepare yourself and do everything you possibly can to put the team in a good position to win on Sundays. I am excited about the season. I have a great feeling about it."