The quarterback was benched at halftime.
The move failed to provide a spark, and the team lost in disappointing fashion.
In the days that followed, scrutiny surrounded the team.
It was last year's Philadelphia Eagles, a team that was 5-5-1 after Donovan McNabb was benched during a 36-7 loss to the Baltimore Ravens.
Of course, McNabb and the Eagles responded to the adversity by winning four of their next five games and making it all the way to the NFC East Championship game.
It is also this year's Washington Redskins, a team struggling to find itself at 2-4.
Jason Campbell was benched at halftime of last Sunday's 14-6 loss to the Kansas City Chiefs. He was replaced by backup Todd Collins.
Now coaches, teammates, media and fans are watching to see how Campbell responds.
The Redskins returned to practice on Wednesday to prepare for next Monday night's game against McNabb and the Eagles at FedExField.
Campbell said players have re-energized after a difficult couple of days.
"You would have thought we were 4-2 the way we walked out to practice," Campbell said. "I don't know what it was, but we found a new energy, new focus, new relaxation. For us right now, there's nothing to lose.
"You can't go out there playing the game frustrated or trying to play perfect. You can't worry about mistakes, you can't worry about boos. You can't worry about any of that."
Fresh off the first benching since entering the NFL in 2005, Campbell was asked if he was worried he would be benched again if he struggled against Philadelphia.
"I don't feel like I'm on a short leash," he replied. "Out of the first half [last Sunday], there were a couple plays I could wish I could have back, but a lot of it was because I had pre-thought some things in my head. It distracted me.
"With a lot of younger guys on the offensive line, I felt like I had to make quicker decisions. Sometimes that can get you in trouble. I just need to trust guys and let them do their job and I'll work on my job."
Campbell's job is going to be a little different this week.
Sherman Lewis takes over play-calling from Jim Zorn on Monday night.
The midseason change is sure to be a work in progress, but Zorn admitted it may be necessary with the Redskins averaging just 13.1 points per game this season.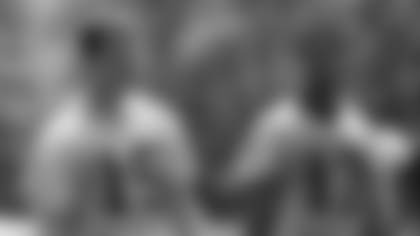 Lewis is expected to call plays from the booth upstairs, communicating to Sherman Smith on the sidelines. Then Smith relays the play call to Campbell.
The playbook will remain the same, but the sequence of play calls will likely change.
Lewis met with Campbell and the offense on Wednesday for the first time as play-caller.
"He went over the passing game with us and he was very energetic and very deliberate with his message about his plays," Campbell said.
In the days leading up to the Eagles game, Lewis, Smith and Campbell need to fine-tune the communication process.
If Smith, Lewis and Campbell are not well coordinated, then the new play-calling equation could result in delay of game penalties and the loss of precious seconds when the offense is in hurry-up mode.
"That's one of the things we're going to work on, getting the plays in and out of the huddle as fast as we can," Campbell said. "There may be a couple of plays I have inside my head if for some reason the play doesn't come in on time, just so that we can keep the tempo up. There may be some things we have to adjust a little bit."
Amid all the change and uncertainty, the offense must also focus on the Eagles, who boast the NFL's third-ranked defense. They are second in run defense, 12th in pass defense and their secondary leads the league with 11 interceptions.
The Eagles lost long-time defensive coordinator Jim Johnson, who passed away last July. His protégé, Sean McDermott, has maintained an aggressive, blitzing defense.
"Their main focus has been pressuring the quarterback and stopping the run," Campbell said. "They have great corners, guys who can hold their own when they're out there on an island. That gives them a lot of confidence.
"They try to line up a lot of guys on the line of scrimmage, but sometimes they try to trick you. Sometimes they drop out of it. So you have to be well prepared."