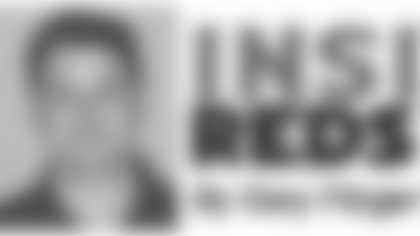 The Dallas Cowboys anointed Tony Romo as their starting quarterback six games into the 2006 season. Three weeks later, Jason Campbell made his NFL debut as the Redskins' starting quarterback.
Both franchises had turned the keys to their offenses over to young, talented quarterbacks.
Romo had immediate success, of course. He has earned Pro Bowl spots each of the last two years.
For Campbell, it has been a work in progress, particularly in the last year as he learns a new offense under head coach Jim Zorn.
The last two regular season games, it appears Campbell is starting to put it all together.
Campbell has completed 61-of-93 passes--a 65.6 completion percentage--for 647 yards, four touchdowns and no interceptions. His QB rating is 100.1.
Campbell has already out-dueled two of the NFC's top-rated quarterbacks in the Saints' Drew Brees and the Cardinals' Kurt Warner.
Now he gets Romo, who has similar numbers to Campbell.
Romo has completed 62-of-92 passes--a 67.4 completion percentage--for 892 yards, five touchdowns and three interceptions. His QB rating is 103.9.
Campbell is ranked ninth in the NFL in quarterback rating. Romo is ranked sixth.
Of course, Campbell and Romo don't line up against each other. Since they both emerged as starters roughly the same time, they may always draw comparisons.
It's not something that Campbell focuses on.
"Romo is a tremendous quarterback and they are a high-powered offense," Campbell said. "The thing I focus on is getting better and better each week. We're in a new offense. Hopefully we can get to a point where it's all second nature for us."
Campbell has only faced the Cowboys once in his four-year career.
On Nov. 18 at Dallas, Campbell set career highs with 33-of-54 pass completions for 348 yards, two touchdowns and one interception.
The Redskins lost 28-23, though, as Romo tossed four touchdown passes to Terrell Owens.
Campbell had a chance late in the game to lead the Redskins to a game-winning touchdown, but he threw an interception in Dallas territory.
Despite the disappointing loss, Campbell learned plenty from that game.
"It gave me confidence to play on the road and play in the division," he said. "At the same time, I try to focus on what's at hand. Last season, I had to throw 54 times and most times when you do that, you're on the losing end in a game.
"What that game taught me is you never know how a game is going to turn out. I went into a game thinking I was going to throw 30 times, and I ended up throwing 54 times--and we had a chance to win it at the end."
Campbell has not thrown an interception this season. Only three other NFL starting quarterbacks have accomplished that feat through three games.
Campbell's last interception was in the third quarter of the game against the Buffalo Bills on Dec. 2, 2007, a span of 115 passes.
Campbell has also not fumbled this year. That was a problem that plagued him 13 times last year.
It's something that he has put a focus on along with Zorn.
"A lot of that just has to do with being aware of it, and not just myself but guys around me," Campbell said. "When you get the ball in your hands, make sure that you protect the ball. Coach Zorn wants me to keep the ball tight and close to the body.
"Sometimes it's communication. When I was on the sidelines [during the Cardinals game], one of my teammates told me that when I scrambled the first time the ball was kind of lingering a little bit. It was good communication because the next time I ran, it was something I focused on."