Jim Zorn stood on the FedExField sidelines with an incredulous look on his face.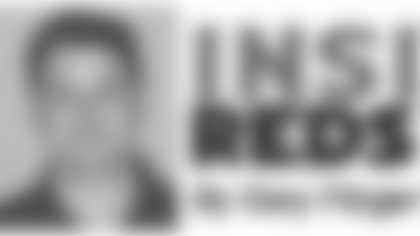 The play he called, midway through the fourth quarter of the Redskins-Saints game, was not what was happening on the field.
There was some confusion in formation and personnel, but it was too late to fix things. Down two scores at the time, they did not want to use a time out.
It was up to Jason Campbell.
Faced with a 2nd-and-22, Campbell threw downfield to Chris Cooley for a 23-yard gain. It was a pivotal play, leading to a Redskins touchdown as they rallied for a 29-24 win.
"Jason made the play, he really did," Zorn said. "I called a different play and he adapted a similar concept to a different formation, got the protection right, got the play run and threw a strike to Cooley. That was all Jason. I had nothing to do with that play."
Zorn credited Campbell for his on-field leadership.
"He helped me out of a bind," Zorn said. "For however [the play] got communicated, it didn't get communicated efficiently or quick enough, and that's my problem. And he got me out of the problem. Hopefully you never have that happen, but that's what a good quarterback can do. He had my back."
Last Sunday's win was a big step forward for Campbell.
After a dismal performance in Week 1 vs. the New York Giants, Campbell rebounded against the Saints. He completed 24-of-26 passes for 321 yards and one touchdown, a 67-yard game-winner to Santana Moss later in the fourth quarter.
In the process, Campbell earned trust from Zorn.
It has certainly been a growing process for both quarterback and coach as they work with each other for the first time.
"He showed he was able to throw to diversify and get a lot of receivers involved," Zorn said. "He did some different things this week that he didn't do [in Week 1 vs. the Giants] as far as finding that second receiver. He improved a lot."
The trust was perhaps most evident late in the game.
The Redskins had a 4th-and-2 at the Saints' 34-yard line with 1:58 left in the game. Zorn had the confidence in Campbell to go for the first down instead of punting or trying a long field goal.
Campbell threw a slant pass to Moss for an 8-yard gain.
"That was big," Campbell said. "Any time you have that trust, any time you feel like you have someone who trusts you, you feel like it goes a long way. It's more than words can say.
"I think for Santana, it's the same way. Santana wanted that play, also. Coaches gave him the opportunity to make that catch at 4th-and-2. I thought it was a tremendous call and tremendous effort by the offense and it showed the confidence we have in each other."
Now Zorn, Campbell and the Redskins move forward. This Sunday, they play the Arizona Cardinals, who are 2-0.
Last year, the Redskins defeated the Cardinals 21-19 at FedExField, but Campbell did not post big numbers.
Playing in the offense directed by Joe Gibbs and Al Saunders, Campbell was 12-of-18 for 95 yards and one interception.
This year, Campbell works in Zorn's West Coast offense, a pass-oriented system. He should have more opportunities to attack the Cardinals' secondary, which includes Pro Bowl safety Adrian Wilson.
Arizona has been solid in pass defense so far this season, allowing an average of 173.5 yards per game, 12th best in the league. Of course, defenses usually improve their stats against the struggling Miami Dolphins, who the Cardinals defeated 31-10 last Sunday.
"Arizona has some great players on defense," Campbell said. "They really get after the ball. They're fast."
Campbell played with two Cardinals defenders at Auburn in linebacker Karlos Dansby and cornerback Rod Hood. Dansby led the Cardinals' defense in tackles last year while Hood had five interceptions.
"I'm pretty sure I'll be receiving phone calls from them this week," Campbell said with a wide smile. "It's all in fun."