A pair of Mississippi quarterbacks--Jason Campbell and Brett Favre--will take to Lambeau Field this Sunday.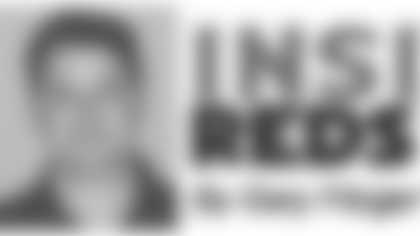 Campbell first met Favre one summer in the late 1990s when he was a senior at Taylorsville High School in Taylorsville, Miss., about 100 miles from Kiln, Miss., where Favre grew up.
Favre, 12 years older than Campbell, was working out at a local gym in Hattiesburg, Miss., where Favre now resides during the offseason. Young Campbell arrived for a workout with the same trainer.
"Once Brett was finished, I had a chance to meet him and see him up close," Campbell said. "He gave me some words of encouragement before I headed off to college [at Auburn]. He is just a tremendous guy."
Campbell wanted to meet Favre again last summer.
So he went to his home in Hattiesburg unannounced and rang the call box at the front gate.
"I don't like imposing on people's privacy, but I just felt like I wanted to go down to speak to him," Campbell said. "I hadn't had the opportunity to talk to him in a while. He has a call box outside and I tried to get in touch with him.
"Unfortunately, he wasn't there."
Campbell and Favre will meet again at Lambeau Field this Sunday. It'll be Campbell's first chance to say hello to Favre in "quite some time," he said.
Favre, of course, has become a legend in the NFL and Green Bay Packers lore. He has started 242 NFL games, a league record for quarterbacks. Last Sunday, he set another league mark by throwing his 422nd career touchdown pass.
Overall, he has thrown for 57,500 yards and has a career quarterback rating of 85.1.
Campbell? He is just beginning to establish himself in the NFL. He has started 11 NFL games, thrown 14 touchdowns, passed for just over 2,100 yards and has a career quarterback rating of 79.2.
"Brett, where he's at in his career, is every quarterback's dream," Campbell said. "Everything he has gone through. The way he plays is very exciting. He goes out and plays as hard as he can play it. If he makes a mistake, he doesn't look back."
How did two guys from small towns in Mississippi make it to the NFL?
"You have nothing else to do but sit outside and throw a football at trees," Campbell laughed. "That's how you work on your accuracy, knocking loose bark off of trees."
Redskins backup quarterback Mark Brunell served as Favre's understudy in 1993-94. Brunell was originally drafted by the Packers in the fifth round (118th overall) of the 1993 NFL Draft.
Reminisced Brunell this week: "I remember Brett as pretty raw back then. He was one extreme or the other--it was a great touchdown or a young guy's mistake.
"You could tell, even at that time, he was going to be a very good football player. He made some great plays, won some football games for us even as a young player back then and obviously went on to have a great career. He's still getting it done."
Favre quickly emerged as a leader under then-head coach Mike Holmgren.
"He was our guy," Brunell said. "What was good was that he commanded the respect of the guys real early because he played so hard. It wasn't always pretty, but he played so hard and he competed and made great plays.
"If it was 3rd-and-five and he was running for the first down, and it took diving for the first down to keep the drive alive, he would do that."
Brunell was traded to the Jacksonville Jaguars prior to the 1995 season.
Head coach Joe Gibbs has watched some great quarterbacks in the league, including Joe Montana. He says Favre ranks high because of his toughness.
"People ask me, 'What's the most impressive thing when you see [Favre], when you see him throw and all that,'" Gibbs said. "It's not [his throws]. The most impressive thing for me is his toughness. He's played with different kinds of injuries. He loves to play and he's very competitive.
"I see no drop-off whatsoever. He's having one of his best years. That's phenomenal for a guy who has been around that long. Probably the single biggest thing for him is the way he plays the game and his toughness, both mentally and physically."