Jason Campbell, during his weekly media session at Redskins Park on Wednesday, was jokingly asked if he thought New Orleans defensive coordinator Gregg Williams would take it easy on him in this Sunday's Redskins-Saints game.
Walking nearby was Carlos Rogers, who played for Williams for three seasons.
He answered for Campbell.
Blitzes. Pressure. And if he's not careful, sacks.
The Redskins take on the undefeated New Orleans Saints--and Williams' 16th-ranked defense--at FedExField. Williams was the Redskins' assistant head coach-defense from 2004-07.
"I don't expect Gregg to take it easy on me at all," Campbell said.
Then he added, with a smile: "But I know he still has a house in this area. And I know where he lives at."
All joking aside, Campbell has already absorbed some punishing hits this season as the Redskins have had to remake their injury-plagued offensive line. This is a unit that has started three different starting left tackles and five different starting right guards.
In the Redskins' last two games, Campbell has faced off against blitzes from the Dallas Cowboys and Philadelphia Eagles.
The Redskins lost 7-6 to Dallas and 27-24 to Philadelphia, but Campbell was sacked just once in both games and he impressed with his ability to get off passes in the face of pressure.
Frequently, he used his mobility to avoid sacks, buy some time and find an open receiver downfield.
"Jason has had some huge throws in hot situations," head coach Jim Zorn said. "He battled. He accepted the physical part of the game. He was much more confident in the pocket when he took the hits and he didn't try to shy away from them. Consequently, we were able to move the ball and get some first downs."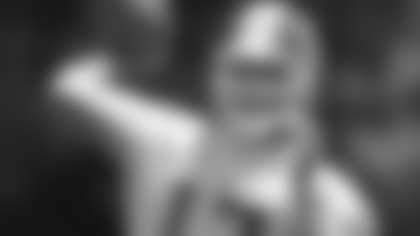 On the Redskins' last offensive play of the Philadelphia game, Campbell bounced a throw to Santana Moss and then was thrown to the ground by defensive end Juqua Parker. No flag was thrown, though.
Campbell stayed on the ground for several minutes after the play and was helped off the field.
It was a hard hit, but he was fine after the game.
That toughness will get tested again against New Orleans on Sunday.
New Orleans is tied for 10th in the league with 26 sacks. The defense is led by defensive ends Will Smith, who has 10 sacks, and Charles Grant, who has 4.5 sacks.
Linebackers Jonathan Vilma and Scott Fujita and safeties Roman Harper and Darren Sharper have sacks this year, showing the versatility of Williams' pass rush.
The pressure shows up best in the turnover department.
The Saints lead the NFL with 34 turnovers, including a remarkable 22 interceptions. They are forcing quarterbacks into mistakes.
"They are going to come from every direction," Campbell said. "That's what you expect from them. That's what they have been doing all year--and we expect nothing different."