The mere sight of the Tampa Bay Buccaneers sends Jason Campbell on a time trip.
Nearly three years, the Redskins elevated Campbell, untested and untried, from his role as the third quarterback to starter. The opponent: The Buccaneers, in Tampa.
Campbell passed for 196 yards and two touchdowns in a 20-17 loss to the Bucs, then engineered his first career victory the following week against the Carolina Panthers.
Other than the final three regular season games of 2007 and a Wild Card playoff game, which he missed with a knee injury, he has not been out of the lineup.
This Sunday, Campbell leads the Redskins against the Buccaneers at home. Yet that first start, on Nov. 19, 2006, is not so far distant as it might seem.
"I can remember that day like it was yesterday," Campbell said. "It was exciting, but I was jittery at first."
As well he should have been. He replaced Mark Brunell as the starting quarterback with the team's record a painful 3-6. A first-round draft choice in 2005, Campbell had been listed as the No. 3 quarterback for 25 games, never getting into a single one.
Even practice that week seemed foreign.
"I was nervous," Campbell says. "The last time I had run a play with our offense was in preseason. I was the scout team quarterback for us. So I was nervous as heck."
The coaching staff cut back the game plan a bit for him in his first start and told him "to just go play." So that's what he did.
"My first pass was a bomb. Coach called a bomb on the first play and it was like 'make it or break it.' I remember throwing the ball and it hit Brandon Lloyd right in the chest and he couldn't come down with it. But I wasn't worried about that. I was just excited because right then I knew I could play in this league," Campbell said.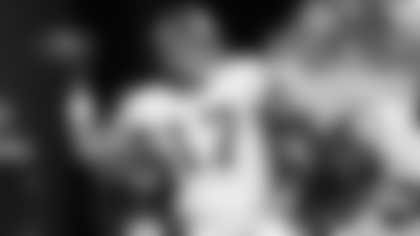 Jason Campbell in his first NFL
start on Nov. 19, 2006. (AP Photo)


Much more goes into the playing of the game than simply taking snaps and handing off or throwing the tight spiral. Quarterbacks grow into the position, learning how to show command of the offense and of the people around them.
Here, Campbell gets high scores.
"He has taken over the team," says fullback Mike Sellers. "He knows how to get on someone when they line up wrong. He handles the situation instead of the coach handling it. He's grown a lot. I would play with J any day."
At 6-5 and 230 pounds, Campbell combines a strong arm with a healthy degree of basic athleticism. Flush him from the pocket and he'll run and run well, as the New York Giants found out in the season opener when Campbell set up a touchdown with a 16-yard run. He bolted from the pocket a couple of times against the St. Louis Rams as well to pick up key first downs.
Give him time to throw and he can hit the underneath receiver or throw the ball as far as any quarterback in the league.
"Any time you have to defend a quality quarterback that has the added ability to run and hurt you with his feet, it's very, very challenging," said St. Louis Rams head coach Steve Spagnuolo, whose team came up on short end of 9-7 score that featured three long drives executed by Campbell. "It keeps you up at night. It gives you nightmares."
The deep strike has been lacking from the Redskins' arsenal but that's not because Campbell lacks the ability to deliver.
"I personally think he has one of the best deep balls in the league," says practice-squad quarterback Andre' Woodson.
Woodson played collegiately at Kentucky, an SEC rival of Campbell's Auburn Tigers and he remembers Campbell putting together a superb senior season that enticed the Redskins into trading back into the first round to select him.
"I think he's going to have a chance to showcase his abilities and the season will be huge for him," Woodson says.
It may have to be for him to return in this role next year. Campbell is in the final year of his original contract and some uncertainties loom. If the NFL labor situation remains unchanged and there is no extension of the current collective bargaining agreement, the 2010 season will have no salary cap and players with five years of experience can only become restricted free agents.
So Campbell's rights may essentially belong to the Redskins even if they don't see him as part of their future and teams that like him would have to offer draft choices to try to sign him.
None of that might be an issue if time works in Campbell's favor. Head coach Jim Zorn remains a fan and says he appreciates the player's development.
"He has shown marked improvement and it's not just statistics," Zorn says. "There's a lot of things he's doing better -- his reads, how he handles the huddle, his leadership. It's all going to pay off down the line."
That's what this season will be about. Campbell has made peace with the idea that the Redskins looked to replace him by trading for Jay Cutler or by dealing up in the draft to select Mark Sanchez, though they ultimately never did either. This is Campbell's team, at least for now, and what he does with it could determine how long it is his.
"I went through a lot this off-season," Campbell says, "and I will continue to use it to motivate myself."
Almost three years have passed since Campbell was deemed the next big thing. He knows there are those who would like to see the next "next big thing." So be it.
"Three years ago, everyone was excited about seeing you. Now some of them are excited about getting you out of here. I'm not worried about it," he says. "I'm excited about everything we can do when we get rolling."