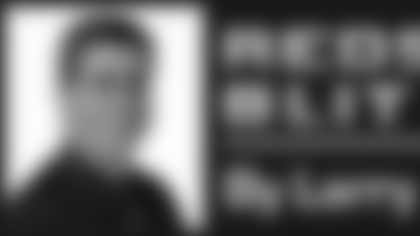 The first drive looked scripted. Scripted, scrupulous and sharp. The quarterback Washington wanted to see made his first appearance of this preseason game memorable as he marched his team down the field for a touchdown and a 7-0 lead.
The second possession? Not so good. Jason Campbell missed a wide-open Santana Moss running free deep down the field and then barely avoided an interception by linebacker Adalius Thomas.
The third? Blah. Three and out again, with no running game and pressure on Campbell's one pass attempt.
The Redskins' defense, meanwhile, was doing its best to make Tom Brady and the New England Patriots look the offensive machine they were in 2007. And when Campbell next got to take a snap, the Redskins trailed 17-7.
Fold or be bold? Which way would Campbell go in what would likely be his last (and only) extended playing time of the preseason? He took the challenge.
He drove the Redskins 91 yards, keyed by a 73-yard completion to tight end Chris Cooley and capped by Campbell's 4-yard scramble for the touchdown on which his pump fake had linebacker Paris Lenon jumping and Campbell blowing past him to score. That long play to Cooley followed an 11-yard pass Campbell buried in Moss' gut to convert a third-and-nine.
Then, after getting the ball back with 1:57 left in the first half, Campbell got the Redskins as far as the Patriots' 7 with five seconds. Dave Rayner's 25-yard field goal made it 17-17 at halftime and the Washington first-string had its points. Campbell had made a few of his own as well.
"I was very pleased," head coach Jim Zorn said. "He was very much into the game. He was competing hard and doing the things that you want. We missed on a couple of long ones but he came back and was running the show."
Pleased is good. Ecstatic would be better but no coach goes there, even on the greatest day of his quarterback's life.
Let's not get too excited. Let's keep it medium. Let's be happy with competence in good measure at this juncture and look to build on it.
"We came out and had some fun," Campbell said after this 27-24 defeat on Friday night at FedExField, not that the outcome mattered as much as the ground covered in it. "We tried to execute a lot of different areas of the field.
"I just wish we had that bomb back, that one shot to Santana deep down the field. Those are things that we have to continue to keep doing because those are game-changing plays that can help us in the season."
Moss tried to take some of the weight for that one.
"I told Jason I probably should have dug a little more before I looked up, but that's the way it crumbles sometimes," he said.
"Last week I was a yard short (to Malcolm Kelly). This week I was a yard long. Next week? Right in the chest," Campbell joked about errant deep tosses.
The spotlighted player throughout an offseason in which the Redskins sought to replace him and a preseason in which he had yet to excel or lead the offense to a touchdown, Campbell passed this test, even if he didn't ace it.
He finished with 13 completions in 22 attempts for 209 yards, hung 17 first-half points on a defense that ranked 10th in the NFL last season, and seemed to come off his initial reads quickly enough to find his second receiver in the first two quarters.
If this were as good as it got, it would be at least okay. Campbell posted a passer rating of 90.9 and did it without the support of a running game, which arrived after he departed. He stepped into throws and did not seem timid about deciding where to go with the football.
All positive stuff. After two non-descript outings in which he went 4 for 13 for 48 yards, Campbell hung in the pocket when he could, bolted it when he needed to and made enough quality throws to quell the angry mobs.
Okay, so a drive dying at the 7 after a not-so-terrific throw on a fade pattern to Malcolm Kelly doesn't go into the "attaboy" file. Still, a two-minute drive for points to tie the Patriots gave the home fans something to cheer and Campbell the respectable showing he desperately needed.
"Guys got into the flow because we knew we were going to play the first half and into the third quarter," he said.
He played two series of the third quarter and thereafter the night belonged to Colt Brennan, trying to hang on to his role as the No. 3. Brennan threw a horrendous interception that was returned 99 yards for a touchdown and maybe balanced it out with a touchdown pass. Chase Daniel didn't play. Whichever the team keeps will matters most to that individual but less to us because the No. 3 guy won't likely see a snap during the regular season.
Campbell will. He will not silence his many critics with one solid performance in a preseason game. He finished 13 of 22 for 209 yards, with no interceptions and no touchdown passes.
The last aspect of that sticks in the craw. Perhaps, with one more series after LaRon Landry's interception, he might have.
Campbell looked the part and played the part in this one and that's what he needed to do. He hasn't escaped scrutiny, only postponed more of it until next he takes the field.
"The road," he acknowledged, "is not going to be easy."
That's generally the case with any quarterback, just a little more so with Campbell. He got the critics off his back by putting the team on his shoulders. For now, that's enough.
---
Larry Weisman covered professional football for USA TODAY for 25 years and now joins the Redskins Broadcast Network and Redskins.com to bring his unique viewpoint and experience to Redskins fans. Go to Redskins.com for the Redskins Blitz column and NFL Blitz on Friday. Larry also appears on Redskins Nation, airing nightly on Comcast SportsNet, and on ESPN 980 AM radio, both in the Washington, D.C. area.