It was the Redskins' first mini-camp practice of 2008, and Jason Campbell stood confident in the pocket. He saw his primary receiver covered. He saw his secondary receiver covered.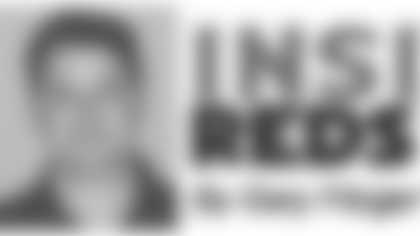 So Campbell turned and threw to a running back in the flat.
The play caught the attention of Jim Zorn.
It's one reason why Zorn is happy to stake his first year as head coach on Campbell's ability at quarterback.
"Those are the kind of things you put on the board, talk about it in a position meeting and then you hope gets executed out here," Zorn said. "Nobody set him up for it. He just did it. That is when you know that the playbook--all the talk and all the work that coaches do--connects with the player."
Campbell is entering the 2008 season learning his seventh offense in the last eight years.
The new one is Zorn's version of the West Coast offense.
Campbell has familiarity with the West Coast offense because he played in one during his senior year at Auburn. He had his most productive college season that year, throwing for 2,700 yards and 20 touchdowns and leading the Tigers to a perfect 13-0 record.
The last two years, Campbell played in Al Saunders' timing and rhythm offense.
The West Coast offense emphasizes short and intermediate routes.
Campbell is delving into Zorn's new playbook and adjusting to different pass routes and different check-downs.
Campbell is confident that his transition to Zorn's offense will be seamless.
"It's really helping me because I went through this my senior year at Auburn," he sad. "A lot of things we're doing right now, I can feel the rhythm of it because I've been in that offense before. I can pick up things quicker because everything is not new to me."
Zorn understands Campbell's background in the West Coast offense, but he wants to start from scratch with his new quarterback.
Since February, Zorn has been working with Campbell, making adjustments in his footwork and fine-tuning his technique to better fit the West Coast offense.
"I am going to assume that Jason knows nothing, so that we are starting from square one," Zorn said. "It's just to make sure that we cover everything...I am not going to try to skip steps that it takes to coach, that it takes to get him to play the game like he has done all his life."
The 2008 season promises to be a big one for Campbell.
In three NFL seasons, Campbell has shown steady progress as a passer. Last year, in 13 games, he completed 250-of-417 passes--a 60 percent completion percentage--for 2,700 yards, 12 touchdowns and 11 interceptions. His QB rating was a respectable 77.6.
Campbell's season ended in Week 14 last year when he suffered a dislocated kneecap injury. Four months later, he is fully healthy again.
As a starter, Campbell's won-loss record as a starter is 8-12. He has struggled at times in the red zone and in leading game-winning drives.
Campbell knows he has room for improvement, in everything from how he plays quarterback to his approach in game situations.
"[Coach Zorn] told me, 'I don't want you to go out there and play the game so mechanical," Campbell said. "He wants me to stay low and at one level [in the pocket]. As a quarterback, when you drop back, stay at one level the whole time."
"You're able to move quicker and react quicker to different things because you're at one level. That's the biggest adjustment."
The West Coast offense has proven to be quarterback friendly over the years. Hall of Famers Joe Montana and Steve Young, as well as future Hall of Famer Brett Favre, all excelled in it.
Zorn learned the West Coast offense under former Green Bay Packers and current Seattle Seahawks coach Mike Holmgren. Zorn coached Seahawks quarterback Matt Hasselbeck to a Pro Bowl last season.
As Campbell re-adjusts to the West Coast offense, he believes it gives him more hands-on control in the decision-making process on the field.
"There are a lot of key things to keep in mind as far as technique, reading coverage and getting the ball out of your hands fast," Campbell said. "That is the main thing about this offense: ball out fast and technique."
The Redskins drafted two wide receivers and a tight end in the early rounds of the April 26-27 NFL Draft.
Devin Thomas and Malcolm Kelly are both over 6-2 in height. They complement last year's starters Santana Moss and Antwaan Randle El, both of whom are under 5-11.
"We have a lot of threats now," Campbell said. "We have more options now."
During Friday's practice, Campbell also tossed a deep pass 6-5 wide receiver Anthony Mix, who grabbed the ball despite good overage by cornerback John Eubanks. Mix bobbled the ball, but ultimately held on.
The play earned high marks from Zorn after practice.
Campbell is high on Mix, too. The two played together at Auburn and were re-united last season when the Redskins signed him to the roster from the New York Giants' practice squad.
"Mix is a great addition," Campbell said. "He has a lot of height. He brings a different demeanor to the game. Each [receiver] adds something to the position. Mix is doing a good job and he's going to be able to help us."