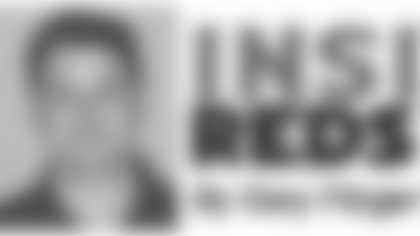 The Redskins had moved the ball into New York Giants territory, thanks to Jason Campbell completing a pair of first-down passes to Antwaan Randle El and Chris Cooley.
On 1st-and-10 at the Giants' 43-yard line, Campbell dropped back to pass again. Under pressure, he threw a deep pass to Randle El near the goal line.
At first, Campbell thought he over-threw Randle El. As the coverage converged, it was a pass he immediately wanted back.
Turns out the ball was slightly under-thrown, and Giants cornerback Aaron Ross stepped in front of Randle El to haul in the interception.
"Jason threw short, unfortunately," Jim Zorn said during a Monday press conference at Redskins Park. "He needed six more yards on the throw."
The play was emblematic of the recent struggles of the Redskins' offense. It was brought up several times during the press conference.
Zorn would later call Campbell's overall performance in the 23-7 loss to the Giants as "very average."
That led to a question from a reporter whether Zorn would consider making a change at quarterback.
"No," he replied, before the question was even finished.
Campbell's "average" play is part of growing pains in learning his offense, Zorn suggested.
"I am putting Jason in some advanced situations because really we have to move along with this football season," Zorn said. "We all hope that there is a balance there. And I probably have tipped the scales. Those are things that you find out as you go along.
"I'm trying to push it. Now maybe I take a step back."
Campbell completed 23-of-38 passes for 232 yards against the Giants. Most of those passing yards came in the fourth quarter after the Giants had built an insurmountable lead and played prevent defense.
The Redskins had five 3-and-outs when the game was reasonably close.
"I felt like Jason had some real plus plays, but a couple of decisions that he made and a couple of throws that he made were off," Zorn said. "You have to understand I put a lot on him to be right every time. He knows I think he can do it. And I do think he can really do it.
"You can say, 'Coach Zorn is frustrated with Jason Campbell.' But I'm frustrated if he makes even one error."
Campbell, in his fourth NFL season and third as a starter, is certainly having his best season from a statistical standpoint.
In his first year in Zorn's version of the West Coast offense, he has completed 63.8 percent of his passes for 2,560 yards, 10 touchdowns and four interceptions. He has been sacked 32 times, certainly an alarming statistic.
After Sunday's game, Campbell said that when he was thriving early in the season, big plays were a big part of his arsenal.
Remember the 67-yard touchdown pass to Santana Moss in Week 2 to beat the New Orleans Saints.
Or the 53-yard pass to Moss to set up a score to help beat the Dallas Cowboys in Week 4.
Or the 15-yard scramble on 3rd-and-9 in the fourth quarter to seal a win over the Philadelphia Eagles in Week 5.
Those plays seem to be few and far between now.
Sure, the Redskins have played some of the league's best defenses the last month, including the Pittsburgh Steelers, Dallas Cowboys and New York Giants.
But opportunities for big plays have been there.
Witness the Randle El play on Sunday against the Giants.
Or the deep pass to Moss in the fourth quarter of the Cowboys game in Week 11. The Redskins trailed the Cowboys 14-10 at the time. Campbell's throw was on target and the ball was catch-able, but Moss could not hold on amid double coverage.
The offense has to start taking advantage of opportunities for big plays, Campbell said.
"A lot of it has to do with us converting third downs, staying on the field and getting into a rhythm," Campbell said. "And a lot of it has to do with big plays. We're good on short and intermediate plays, but we haven't had the big plays to separate the game, put more points on the board and get the crowd pumped up."
"That doesn't mean you have to chuck it downfield every time, but having a big play--I think it's something we have been missing."
Added Moss: "We have to make some more big plays. If you do that, then the game is just changed because you put a team in a situation where they are stunned that you made that big play."
Zorn acknowledged that improvement is necessary to get the passing game back on track.
And execution--not scheme or adjustments--is at the root of it.
"When you get a defense that forces you to throw, like we did against Pittsburgh and the Giants game especially, we have to be able to throw and get first downs," Zorn said. "I think that's the issue. It's in the passing game where we need to improve.
"The schemes are there. We have guys where we want them, and either we get a pass rush, we don't complete the pass, or we make the read poorly. It's a series of things, and it's a frustration.
"But we're working on it. We have to execute better."