Jason Campbell entered Sunday's game against the New England Patriots emphasizing that the Redskins' offense needed to "play together," meaning as a cohesive unit.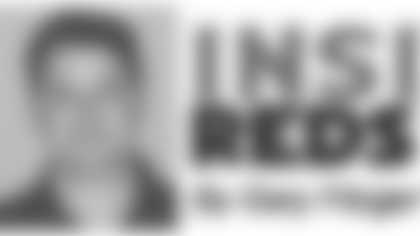 That proved to be a tough assignment against one of the NFL's elite teams.
The Patriots disrupted the Redskins' offensive rhythm and dominated the game from the get-go, winning 52-7.
The Redskins' offense compiled 224 yards in the loss. Campbell was 21-of-36 for 197 yards with one touchdown and one interception.
Most of his passes were of the short variety, as his downfield throws could not hit the mark.
Santana Moss was Campbell's top target in the game. Moss caught a team-high six passes for 41 yards.
Chris Cooley caught three passes for 31 yards, including a 15-yard touchdown grab in the final moments of the game. The score averted a shutout.
Perhaps of greater concern is the pass protection, which allowed Patriots' linebacker Mike Vrabel to get into the backfield and strip Campbell of the ball three times.
The fumbles led to 17 points for the Patriots, including an 11-yard return for a touchdown by linebacker Rosevelt Colvin.
"I didn't see those [fumbles] coming," Campbell admitted. "On those plays, I was looking downfield, keeping my eyes downfield, trying to read my receivers and throw to the open guy. They did a great job of breaking in and making a play on the ball."
The Redskins had to play a perfect game to beat the undefeated Patriots. They would not be able to overcome mistakes.
"We knew we had to go into the game and do what we do best, and that's play together," Campbell said. "When you're going against a team like this and you're on the road in a hostile environment, there are two things you have to focus on: you have to go out there and play together and you have to have the right attitude."
Another challenge for Campbell: it was the first time in his NFL career that he played against a 3-4 defensive alignment, with three down linemen and four versatile linebackers.
The Patriots have versatile linebackers, particularly Vrabel, Tedy Bruschi and Colvin, who can rush the passer or drop back into coverage, making Campbell's assignment tougher.
"They're a different style defense," he said. "One thing they do a lot is move around. They try to cause some confusion up front by just moving around and trying to get their guys lined up in certain places, so they try to get an advantage."
Vrabel got an advantage by beating the Redskins' pass protection three times--including once where he slipped past blocks by Mike Sellers and Clinton Portis to poke the ball loose.
Certainly, Campbell will need to work on holding on the the ball better so that he can avoid costly turnovers. He has fumbled eight times this season, losing four.
"One thing I have to do as a quarterback is go back and look at the film, try to find ways to protect the ball better when I'm getting hit that way," he said.