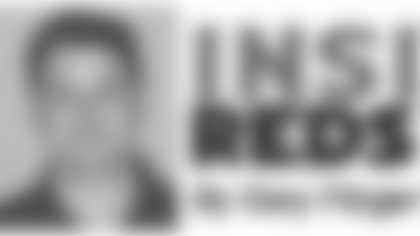 When last we saw Jason Campbell, he was getting blitzed repeatedly by the Pittsburgh Steelers' top-ranked defense.
Campbell and the Redskins' offense struggled in the 23-6 loss to the Steelers on Nov. 3 at FedExField.
He completed 24-of-43 passes for 206 yards, most of which came in the fourth quarter when the Steelers had built a commanding lead. He was sacked seven times and threw two interceptions.
The Steelers, who operate a 3-4 scheme with fast, aggressive linebackers, gave Campbell some defensive looks that he had not seen before.
"Playing in the Pittsburgh game helped a lot, actually," he said. "I was able to see the pressure they were bringing and how physical their [defensive backs] played against us. For me as a quarterback, it gave me a feel for how to approach something like that again or prepare for something like that."
Campbell knows full well that this week's opponent, the Dallas Cowboys, will watch that film and try to mimic some of the things the Steelers did to Campbell.
Like the Steelers, the Cowboys run a 3-4 defense.
"The Steelers had real good coverage, and you couldn't get the [pass thrown] because of it," Campbell said. "There was nothing you could do about it. You try to throw the ball away, but they had such good pressure in the pocket. They were really bringing it."
Dallas's 3-4 scheme is different from Pittsburgh's in that the linebackers are more similar to defensive ends.
"The Cowboys have a big, physical defense," Campbell said. "They have big guys in [linebackers] DeMarcus Ware and Greg Ellis who like to beat you at the punch."
Campbell figured out the Cowboys defense in Week 5, when the Redskins traveled to Dallas and came away with a 26-24 win at Texas Stadium.
Campbell had one of his best games of the season that day. He completed 20-of-31 passes for 231 yards and two touchdowns, a 3-yard pass to James Thrash and a 2-yard pass to Antwaan Randle El.
Campbell was sacked only twice, on successive drives in the first quarter. Defensive end Chris Canty got him on a 3rd-and-9 play and Ware pulled him down on a 3rd-and-7 play.
As the Redskins' offense got into a rhythm in the second quarter, Campbell was able to find time in the pocket. He led the offense on four consecutive scoring drives.
Of course, Clinton Portis rushed for 121 yards in the game, taking some of the pressure off Campbell and the passing game.
Portis has a sprained knee this week and his availability for this Sunday is uncertain.
Campbell said the offense will have to adjust if Portis is not in the backfield. Portis is second in the NFL in rushing yards with 995 through nine games.
Ladell Betts is coming off an injury as well, so Shaun Alexander and Rock Cartwright could be forced into action against the Cowboys.
"Clinton is the leading rusher back there and a guy who is so versatile in our offense," Campbell said. "He definitely adds a dimension because defenses have to respect the run game and you can run the whole offense. You don't have to get one-dimensional."
If Campbell is needed to be the focal point of the offense, he's ready.
"Down the stretch, I'm already thinking that way anyway," he said. "I know it's time to step up a little bit more and continue to lead this team to do what we have to do."
For the season, Campbell has completed 176-of-273 passes--a 64.5 percent clip--for 1,960 yards, eight touchdowns and two interceptions. His QB rating is 92.4, ranking him seventh in the league.