Word came in this week: the Redskins now own an impressive NFL record.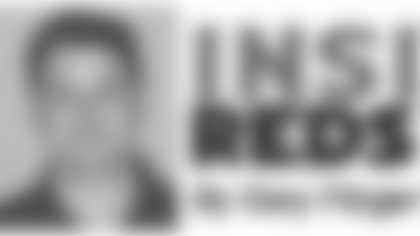 According to the Elias Sports Bureau, Redskins quarterbacks have now thrown 332 consecutive passes without an interception, dating back to last year.
That beats out the previous NFL mark of 281, set by the Oakland Raiders in 2001.
The Redskins' tally includes Jason Campbell's 23 pass attempts in Sunday's 14-11 win over the Cleveland Browns at FedExField.
Campbell completed 14 passes--for 164 yards--in the Redskins' win and threw no interceptions for the seventh game this season.
Overall, Campbell has now thrown 224 consecutive passes without an interception, a franchise record. He broke the previous record of 161 against Philadelphia on Oct. 5, when he surpassed Joe Theismann's mark set in 1983.
This season, Campbell has attempted 202 passes without an interception.
It's a remarkable streak for Campbell. Every other quarterback with at least 65 attempts has thrown at least two interceptions.
Of the Redskins' record 332 pass attempts without an interception, Campbell has thrown 224 of them. Todd Collins has 105 of them, Antwaan Randle El has two and Clinton Portis has one.
In Sunday's game, Campbell and the Redskins' offense got off to a slow start against the Browns.
The offense was just 3-of-8 on third downs in the first half, contributing to the struggles.
"We were slow to get out," Campbell said. "The Browns' defense was doing an outstanding job of holding us. We moved the ball, but their defense was doing a great job. Coach [Jim] Zorn told us to stay patient and keep working."
In the second half, the Redskins put together two scoring drives, thanks to strong running by Clinton Portis and clutch catches by Santana Moss.
Portis capped one drive with a 3-yard touchdown run and Moss caught an 18-yard touchdown pass to provide the winning points.
Campbell has been most impressive when he finds his second and third options on pass plays.
"We've been able to get to that third and fourth progression in the offense," he said. "The offensive line has given me a lot of opportunities to stand back there [in the pocket] and maneuver the ball downfield. When you have time, you're able to go through all of your progressions, and that's important.
"I always tell the offensive line that even if it's a three-step drop to try to give me as much time as possible because the first and second receivers may not be open."
Campbell suffered a minor groin injury in the first half.
He emphasized after the game that it was not a serious concern.
"It wasn't really an injury--my foot just got caught and I tweaked my groin," Campbell said. "It was really tight and really stiff, but as the game kept going, it got looser."
Added Zorn: "I'm not worried about it. He's fine now. He finished the game. He may have a sore groin, but he seemed to be fine after the game."