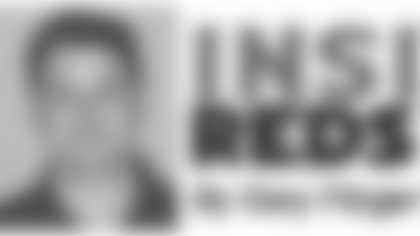 One day last year, Santana Moss pulled aside Jason Campbell and asked him why he doesn't run with the ball more.
"Jason is very good in the pocket, but we saw him take some real blows," Moss said. "He kept on taking hits and taking hits, and we were like, 'Jason, you have to run some time.'"
This year, Campbell is heeding those words.
He has used his legs to escape pressure time and again in the Redskins' three-game winning streak.
Campbell has just 11 rushes for 30 yards, but he has been able to use his legs to elude pass rushers and complete passes downfield.
Campbell remembered the conversation with Moss this week.
They had joked that Campbell was not enough like many African American quarterbacks that use their athleticism to escape pressure.
"Santana said, 'You try to stay in the pocket and throw it all the time.' I said, 'I thought that's what wide receivers wanted.' He said, 'We like that, but your mobility adds another dimension to our offense.'"
Coming off a knee injury that sidelined him for the final four games last year, Campbell decided to lose 10 pounds last offseason.
He said the weight loss helped him become more elusive.
"And now I guess I'm trying to be what Santana wants me to be," Campbell said, smiling.
As a passer, Campbell is ranked fourth in the league with a 102.2 quarterback rating this season. He has completed 65.3 percent of his passes for 878 yards, six touchdowns and no interceptions.
Head coach Jim Zorn has implemented some creative practice drills this offseason to help Campbell adjust to pressure.
One memorable drill had Campbell dropping back to pass as 4-5 blocking pads were tossed at him.
Another drill has Campbell throwing a series of passes on the run, sideline to sideline.
"Just avoiding a hand or an arm--and protecting the ball--it has given him a chance to make something out of a play that's breaking down protection-wise," Zorn said.
This week, Campbell's mobility is certainly a key as the Redskins contend with the blitz-happy Philadelphia Eagles.
The Eagles lead the NFL in sacks with 17, although nine of those came in their Week 3 game vs. Pittsburgh.
"They are aggressive and creative," Zorn said. "One team may have 3-4 schemes to try to get to the quarterback, but the Eagles might have 8-10 schemes. They really have some flexibility and they can blitz a lot because of their athletes and their team has been together for a while. They have a great scheme."
Added Campbell: "They do everything from corner blitzes to safety blitzes to linebacker blitzes. And they come real fast."
Campbell hopes to find a pattern to their defensive formations. He is spending extra time in the film room studying the different looks that the Eagles give each game."
"My eyes have to go from east to west, all the way across the field, to make sure we're picking up blitzes and seeing where the pressure is going to come from," Campbell said. "It's not just me. It's everyone on offense. We have to understand the different coverage and the different looks we're going to get."
When that pressure comes, Campbell won't hesitate to use his legs now.
From his conversation with Moss to his drills under Zorn, Campbell recognizes that his mobility is a valuable asset.
Said Zorn: "Sometimes it's just a matter of keeping plays alive. That's the sign of a really good quarterback."