Jason Campbell's past catches up to him this Sunday.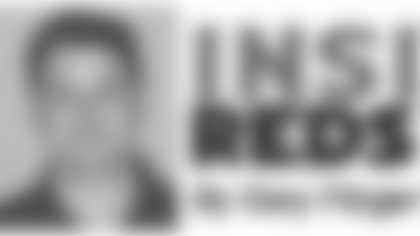 His former mentor Al Saunders returns to FedExField on Sunday as offensive coordinator of the St. Louis Rams.
Saunders worked with Campbell from 2006-07 as the Redskins' assistant head coach-offense.
Certainly, Campbell made great strides under Saunders, a 26-year coaching veteran.
Under Jim Zorn, Campbell has emerged as a finished product.
Through five games, Campbell has completed 97-of-153 passes for 1,054 yards, six touchdowns and no interceptions.
His 96.7 passer rating is ranked eighth among NFL quarterbacks.
In a media session prior to Wednesday's practice at Redskins Park, Campbell admitted he was concerned when Saunders did not return to the team last offseason.
"You think about having to start over again and you wonder who is going to be your coach," Campbell said. "But that's part of the NFL. You have to be ready for change and you have to adapt to change."
Of course, Zorn was the Redskins' choice as head coach.
As quarterbacks coach in Seattle, Zorn helped develop Matt Hasselbeck. He was tasked with doing the same with Campbell.
Zorn implemented the West Coast offense, a system that Campbell had excelled in during his senior year at Auburn.
He refined Campbell's footwork and technique, oftentimes using inventive drills to challenge him.
The results have shown in the Redskins' 4-1 start.
"After spending time with Coach Zorn last summer, we kind of jelled together," Campbell said. "Right now, everything is going well because we trust each other and we're working with each other."
The Redskins' offense is ranked sixth in the league, averaging 351.2 yards per game.
The ground game is ranked fifth and the passing game is 17th.
"It's fun the way we're moving the ball," Campbell said. "It's fun to see how we can control the ball in the fourth quarter with our run game. It gives us the opportunity to be very balanced on offense.
"At the end of the day, you go back and you still see things on film that you want to correct. Knowing that we are improving is a positive sign for us."
As Campbell forges a strong bond with Zorn, he maintains great respect for Saunders.
Campbell and Saunders talked last summer, before the start of training camp.
"I was asking how his family was doing and he talked to me about rehabbing my knee and getting ready for the season," Campbell said. "He's a good guy. He was just checking in on me. Not everyone does that.
"He is a coach in this league that you respect because of his personality. He's like a father figure."
The 0-4 Rams have struggled under Saunders, scoring just 43 points in four games. The offense is ranked 30th in the NFL, averaging 246.8 yards per game.
Campbell won't line up against the Rams' offense, but he expects Saunders to be creative in his play calls.
"Knowing him, and the competitiveness he has, we have to be ready to play," Campbell said. "We expect him to come in here and do everything he can to get a win."