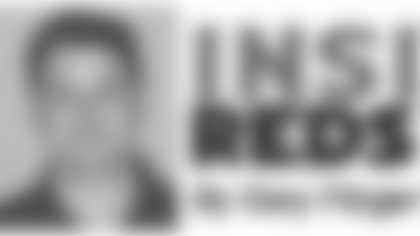 Jason Campbell is emerging as a top-flight NFL quarterback right before our eyes.
Now he is starting to move up the ranks of Redskins quarterbacks in franchise history.
On Sunday, in the Redskins' 23-17 win over the Philadelphia Eagles at Lincoln Financial Field, Campbell set a Redskins record when he threw his 162nd consecutive pass without an interception.
Campbell surpassed the mark of 161 set by Redskins great Joe Theismann in 1983.
Upon completion of Sunday's game, Campbell had completed 175 consecutive passes without an interception.
The streak continues into next week against the St. Louis Rams.
Through five games this season, the Redskins' offense has not committed a turnover through five games.
Campbell remains the only starting quarterback in the NFL not to have thrown an interception this season.
"To be honest, I haven't really thought about the streak," Campbell said last week. "I just play the game and if something is there I try and take it. If not, I don't force the issue. I just try to keep our team in good field position and try not to turn the ball over."
Overall this season, Campbell has completed 97-of-153 passes for 1,054 yards, six touchdowns and no interceptions. His QB rating is 96.7.
Before the game, the Redskins' remarkable streak of no offensive turnovers was a topic that no one wanted to discuss.
Who wants to jinx a good thing?
"We make a point to emphasize not turning the ball over every day in practice," Campbell said. "Our defense does a good job of trying to knock the ball out of our hands. They're always trying to make us aware of it."
The Redskins' only turnover this season came on special teams. Antwaan Randle El fumbled a punt in the Week 2 game against the New Orleans Saints.