In the Redskins' last four games, Jason Campbell has shown signs of becoming an elite-level quarterback.
Big-play passing. Grit and toughness. Leadership.
It's what was expected of him at the beginning of the season.
In the four-game stretch, Campbell has completed 65.4 percent of his passes for 1,047 yards, six touchdowns and four interceptions.
And yet, there's something missing.
Three times in the last three weeks, Campbell has had an opportunity to rally the Redskins in a game's final minutes.
Down 7-6 at Dallas with 1:59 left in the game on Nov. 22, Campbell's pass was tipped and intercepted by defensive end Anthony Spencer.
Trailing 27-24 with 1:09 left at Philadelphia on Nov. 29, Campbell bounced a pass to Santana Moss as defensive end Juqua Parker tossed him to the turf.
And with the Redskins and New Orleans Saints tied at 30-30 with 35 seconds left last Sunday, Campbell threw a poor pass that was intercepted by linebacker Jonathan Vilma.
Campbell has had a handful of fourth quarter, come-from-behind wins in his career. The 29-24 victory over the Saints in 2008, when he tossed a game-winning 67-yard touchdown pass to Moss late in the fourth quarter, comes to mind.
Of his 19 wins as a Redskins starter since 2006, he has never rallied the team to game-winning or game-tying touchdown or field goal in the final two minutes.
As well as Campbell has played in recent weeks, he still must get over the hump in late-game situations.
"Each situation is different," Campbell said. "You will have some that you will come back in the game and you will have some that you come a little short on. In your NFL career, you're not always going to win them all in that situation but at the end of the day you have to put forth your strongest effort and give yourself an opportunity."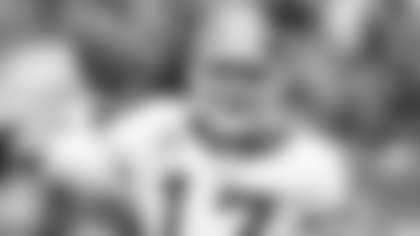 Asked about the challenges a quarterback faces in those situations, Campbell replied: "The defense will turn up the heat a little bit more just because they know it will be a one-dimensional situation. You just have to be patient and try to work the ball downfield and not turn the ball over.
"Over the last couple weeks, there have been opportunities. What you have to do is learn from it and just keep fighting."
Overall, Campbell has been one of the league's top quarterbacks in second-half passing this season.
Through 12 games, Campbell's second-half passer rating is 103.4, with a 71.6 completion percentage, nine touchdowns and four interceptions.
His second-half passer rating is third-best in the NFL.
Saints quarterback Drew Brees is first with a 120.6 passer rating and Minnesota Vikings quarterback Brett Favre is second with a 107.8 passer rating.
Campbell even leads Indianapolis Colts quarterback Peyton Manning, who has a 102.2 second-half passer rating.
Leading the team to a game-winning or game-tying score in the final minutes remains something he needs to improve on.
"One of the things that happens is you have to be thinking as a quarterback, 'I have four downs to make 10 yards, 10 yards at a time,'" head coach Jim Zorn said. "If there are few seconds on the clock, then you got to push it a little more. If you got enough time and you have a time out or two, you can actually just methodically go down the field.
"I always say this: 'It only takes one.' It just takes one completion and then you are moving the chains. That's the issue. You don't have to take huge risks in those situations even though it's a little bit more tense."