Andre Carter has always been somewhat streaky when it comes to recording sacks.
In a 19-game stretch from Dec. 3, 2006 to Dec. 16, 2007, Carter posted 14.5 sacks.
He's in an even better stretch now.
In his last seven regular season games, including the Redskins' 2008 season finale, Carter has 6.5 sacks.
This season, Carter has posted 5.5 sacks, with 4.5 coming in the Redskins' last two games. He is on pace for 14 sacks, which would be a career high.
Carter called the defense's five-sack performance against Kansas City last Sunday the best pass rush the team has had since he arrived in Washington in 2006.
It was certainly one of the bright spots in an otherwise disappointing 14-6 loss to the Chiefs.
"The defense is coming together," Carter said. "We're starting to jell now with all of the time we have put in. You get a better understanding of the man next to you and what he is capable of and how he can complement you, and vice versa.
"Everybody is playing hard. When you have that type of group, you can do anything."
Much of what was predicted when the Redskins signed Albert Haynesworth last offseason appears to be coming true.
With Haynesworth drawing so much attention inside, Carter is seeing fewer double teams. He usually only has to beat the left tackle to get to the quarterback.
Haynesworth's presence has benefited rookie Brian Orakpo as well. Orakpo is second on the defense with 3.5 sacks.
"From Albert to London Fletcher to Rocky [McIntosh], it's all a team effort, but having Albert here has helped us a lot," Carter said. "We have a great rotation along the defensive line and that keeps everybody fresh."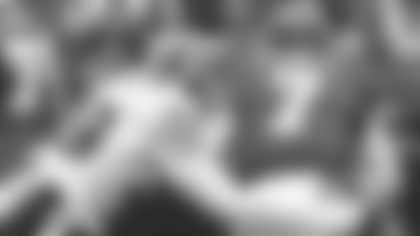 Carter, who at 6-4 and 253 pounds is a classic speed rusher, may benefit the most from the rotation. He is in his ninth NFL season.
Carter is ranked sixth in the NFL in sacks, trailing Denver's Elvis Dumervil. Cincinnati's Antwan Odom, Minnesota's Jared Allen, Indianapolis's Dwight Freeney and Pittsburgh's James Harrison.
In addition to his team-high 5.5 sacks, Carter is third on the Redskins' defense with 37 tackles and he has one forced fumble. He leads the defense with 13 quarterback hurries.
While the Redskins' offense has struggled mightily this season, the defense has been among the league's best.
The unit is ranked fifth overall in the NFL and third in pass defense and is tied for sixth in sacks with 15. (Last year, the unit was ranked 28th in sacks with 24.)
In the days following the Redskins' loss to the Chiefs, Carter talked about leading the team and staying positive through this rough stretch.
"I think it's important to lead by example, especially being a veteran," Carter said. "We do have some young guys on our team. They are going to follow that lead and that level of continuity and the team will stay strong.
"If you go in as a vet and you're pessimistic about everything, then that's how the young guys are going to take everything. The negativity will start spreading."