It has been a long time coming for Rock Cartwright.
Cartwright is expected to make his first start since Dec. 27, 2003 this Sunday when the Redskins travel to Philadelphia to take on the Eagles at Lincoln Financial Field.
Coincidentally, Cartwright's last start was also against the Eagles.
Through the years, Cartwright lobbied for more carries at running back, but he was behind Clinton Portis and Ladell Betts on the depth chart.
With both Portis and Betts sidelined with injuries this season, Cartwright gets his chance.
"I've been waiting for this opportunity," Cartwright said. "The last time I started was 2003, so I'm looking forward to it. I've got to work extra hard at practice and just continue to believe in my O-line--they're doing a great job for me, and the guys around me."
This season, Cartwright has 30 rushes for 135 yards, a 4.5 yards-per-carry average.
Thirteen of those carries came in last Sunday's game at Dallas. He led the Redskins with 67 has rushing yards and also caught a career-high seven passes for 73 yards.
His 34-yard run in the second quarter of the game was his longest since a 52-yard run at St. Louis on Dec. 4, 2005.
"I wasn't surprised what I could do," he said. "I prepared myself for this a long time ago, and when the opportunity presents itself, I just try to make the best of it. I think I did a decent job, but there's always room for improvement."
Head coach Jim Zorn was aware that Cartwright wanted a bigger role on offense.
"The thing that is great about Rock is that he hung in there," Zorn said. "He said his piece, he felt a certain way, yet he wasn't disgruntled to try to split himself away from the team or tell everybody he is 'Done with this.' That's now what a captain does.
"He hung in there, and unfortunately for us [because of the injuries] it's working out for him. And fortunately for us it's working out for him to run the ball. It's a mixed bag, but he gets an opportunity to say, 'See, this is what I have been telling everybody all along.' You get his best effort every moment of the game."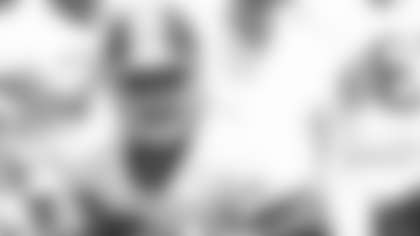 For his career, Cartwright has 181 carries for 796 yards and six touchdowns. He has caught 45 career passes for 406 yards and two touchdowns.
Most of the last four years, Cartwright has served as the Redskins' primary kick returner.
Now he must re-adjust as the team's primary running back.
That means studying Philadelphia's aggressive blitz packages and making sure he's in position to block for quarterback Jason Campbell.
"I've got to try to protect Jason a lot more, I gave up a sack [in the Dallas game] on a blitz pickup, and that's unacceptable on my part," Cartwright said. "I've got to get that corrected."
Cartwright's teammates are rooting for him.
"Rock plays with a lot of passion and he wears his heart on his sleeve," Campbell said. "You have to respect the guy's integrity and the way he comes out and plays. If an opportunity presents itself, he is one guy who takes advantage of it."
Rookie Brian Orakpo hasn't been around Cartwright all that long, but he is impressed with the 5-8, 213-pound sparkplug.
"When he gets his looks for the scout team, for the offense when they are running plays, Rock is just all over the place making plays and great cuts," Orakpo said. "He can see the field. It's his time to shine. That's what guys have to do--step it up. Rock is a great guy to step into that."