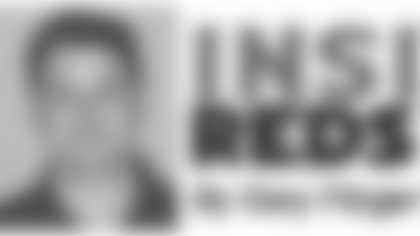 After watching Jeremy Jarmon work out on July 8 in Kentucky, Redskins personnel officials gave the defensive end prospect a second-round grade.
They ended up acquiring Jarmon with the 19th pick in the third round of the NFL's Supplemental Draft on Thursday.
"It was a situation where you get a chance to get a big defensive lineman, and he gets the chance to come in and learn from our veteran guys," executive vice president of football operations Vinny Cerrato said. "He is 21 years old, and he has the size you're looking for in a defensive lineman.
"In next year's draft, if he had gone through the NFL Scouting Combine and everything, he probably would have gone in the second round, because defensive linemen always go high in the draft.
"So I think we got a quality player at a quality price. I don't think we could have got him in the third round next April."
The Redskins had to yield a third-round draft pick in the 2010 NFL Draft as part of selecting Jarmon, but that was a risk team officials were willing to accept.
"For our third-round pick next year, we are getting a year of his work already into it," Cerrato said. "For when we would have made the pick, he has already had a whole season and part of an offseason already."
Jarmon is listed at 6-3 and 277 pounds. He started 31of-39 games at the University of Kentucky the last three years, totaling 17.5 sacks.
He is expected to play left defensive end with the Redskins.
His development could take some time, though.
He has missed all of the Redskins' off-season work and he has a steep learning curve to be ready for playing time in the regular season.
He also must get stronger in his upper body to better withstand the rigors of the NFL.
Said Cerrato: "I wouldn't say he is a project. I think he will be able to help on special teams right away because he can run well. And he is coming into a situation where he has a chance to learn from two great veterans in Phillip [Daniels] and Renaldo [Wynn].
"So there is no pressure on him."
Jarmon entered the Supplemental Draft after he was ruled ineligible for the 2009 college football season.
Last spring, Jarmon tested positive for a banned substance, later revealed to be part of a dietary supplement he was taking at the time.
Asked about Jarmon's suspension, Cerrato said: "We talked to him about it. We talked to the coaches [at Kentucky] about it. We talked to the athletic trainer there about it. [Jarmon] just went around the corner abd bought it at one of those nutritional stores."
Cerrato was impressed that Jarmon owned up to his mistake by holding a press conference after he was suspended.
"I think it showed what type of kid he is," Cerrato said. "And that's the type of guy we want in our locker room. We think he fits in perfectly."