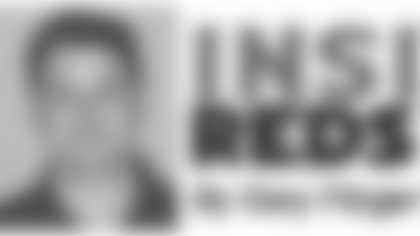 Inside the Redskins' draft room, there was surprise and anticipation each time a team passed on defensive end Brian Orakpo.
Would he fall to the Redskins' pick at No. 13?
Several times, executive vice president of football operations Vinny Cerrato called teams holding top 10 picks to inquire about a trade.
The Redskins were rebuffed, though.
Orakpo kept falling...until he finally landed in the Redskins' lap.
"I was shocked that he fell," Cerrato said.
When Cleveland traded out of the top 10, sending the fifth overall pick to the New York Jets who drafted USC quarterback Mark Sanchez, it opened the door for Orakpo to fall to the Redskins.
The Browns were thought to be looking closely at drafting Orakpo or Boston College defensive tackle B.J. Raji.
"I think that helped because an offensive player [in Sanchez] went and it pushed another defensive player back," Cerrato said.
He added: "We are extremely happy with how this worked out."
Cerrato said the Redskins had Orakpo rated as one of the five best players available in the draft.
Regarding Orakpo, Cerrato said: "I think he has explosive takeoff, explosive speed and he has an ability to get around the corner. He can bend that corner once he gets around the tackle. He doesn't take extra steps.
"We feel he will fit in well in the locker room. He is a Redskins type of guy. He had all of the qualities that we wanted in a player."
If Orakpo was off the board by No. 13, then the Redskins likely would have traded down, Cerrato said.
Cerrato acknowledged that the Redskins had also considered trading up into the top 10 to draft Sanchez.
Trading up turned out to be "too expensive," he said.
Asked by reporters if Jason Campbell would remain the starting quarterback, Cerrato replied: "Jason was always going to be the starter."