Executive vice president of football operations Vinny Cerrato said on Friday that Jim Zorn will be the Redskins head coach for "the rest of this season and hopefully into the future."
Cerrato made the comments during his weekly radio show with Frank Hanrahan on ESPN 980.
"There's been a lot of false rumors, media speculation, unnamed sources out there, all the time," Cerrato said. "I hired Jim along with Dan Snyder. Obviously we are all very disappointed by this season's performance thus far. In fact, Dan constantly talks about how disappointed he is for the fans.
"And we have great fans. We feel the frustration for the fans. We need the fans big time Monday night [in the game against the Philadelphia Eagles]. We want to entertain them. We want to make them proud. We want to make them happy about this football team."
The Redskins have gotten off to a disappointing 2-4 start this season and Zorn's offense has been a source of frustration, averaging just 13 points per game.
Cerrato said: "Sure, the frustration is very high, everywhere around here. But the relationships internally within this organization quite frankly remain the same. Later [on Friday], Dan and I will have our weekly lunch with Jim, like we have always done, and like Dan has done for many years with the head coach to get a rundown on the upcoming game."
It was also Cerrato's first public comments since the team installed veteran coach Sherman Lewis as play caller last Monday.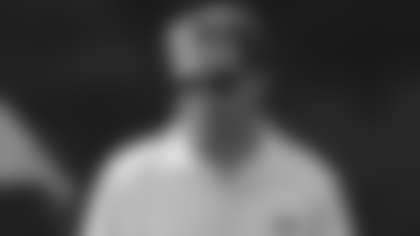 Vinny Cerrato (Don Wright Photo)


Cerrato went into detail about the decision to install Lewis as offensive play caller, something that Zorn did the last 22 regular season games.
"Let me just talk about how I made the decision to take the responsibilities off of Jim's plate," Cerrato said. "What happened was, the [Chiefs game] ended and I was in the locker room and the owners came up to me and asked me, 'How do we score more points?' We were coming off a game against the 32nd-ranked defense and we scored two field goals and had seven first downs.
"I recommended to them that Jim's plate is too full. He is the head coach, he's the offensive coordinator, he's the quarterbacks coach. Let's take something off the plate to help him. So they said, 'Okay, go talk to him.'
"So then I go into Jim's office at the stadium. He's not there yet, he's coming from his post-game press conference. And I sit down with him and we close the door. Contrary to what you read everywhere, it was just Jim and I. There were no cameras, microphones or anything else...There's just two people.
"I say, 'We're struggling scoring points.' I say, 'It's been over 14 weeks that we've struggled on offense. I think you have too much on your plate, that a new voice may be good for the offense to get us going, give us a spark...The defense is playing outstanding. Let's get something going.'"
"He said, 'Let me think about it and I'll talk to you later.' He called me back...He says, 'I'm in. Let's talk about who calls plays [on Monday morning], but I'm in and let's move on.' The next morning, we decided it would be Sherm Lewis and that's where we're at now. That kind of clears it up."
Cerrato added: "To [install Lewis as play caller] now, then we have the bye and we have two more weeks to get ready. Doing it now and getting a taste of it only helps Sherm."
Cerrato closed out his comments on Zorn's future with the organization this way: "I think it's totally crystal clear and hopefully we can just concentrate and focus on winning football games."