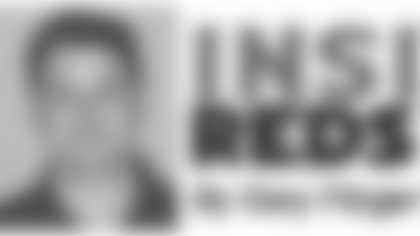 Stop watches and clipboards in hand, NFL coaches and scouts are at the Senior Bowl in Mobile, Ala., this week scrutinizing prospects at every turn.
Height and weight? Check.
One-on-one drills? Check.
Turns out that's the easy part, though.
These days, off-the-field skills matter more than ever. The NFL levies fines against teams that have players who get in legal trouble.
As the Redskins continue to focus in on NFL prospects at the Senior Bowl--and again in mid-February at the NFL Scouting Combine--one of the club's top priorities is to find players with high character and football smarts.
Executive vice president of football operations Vinny Cerrato and director pro personnel Scott Campbell led a Redskins contingent at the Senior Bowl.
The postseason college all-star games are the first opportunity that coaches and scouts can meet with and interview prospects.
Interviews are conducted after practice and at the team hotels where Senior Bowl participants are staying for the week.
"You can engage in a one-on-one interaction with the kids, just in terms of if they're attentive, if they're disinterested," Campbell said. "You start to get a feel for the player's personality and intelligence. And you can follow up on more details of their background."
The interviews allow Campbell and the scouting staff to "verify information that we gather from our sources at the school" and to get more details from a player if he has "had issues and problems in the past."
Some of those players may ultimately be removed from the Redskins' draft board, Campbell said.
"After the Senior Bowl, we come in as a scouting staff and that's when we'll go through and clean out all of the guys [who have character issues] that we know we won't be interested in," he said.
"There will be some who are questionable, or there may be certain circumstances that I'll save for the meetings to review with the staff and Vinny. It's kind of a sifting process through the whole thing.
"Obviously if a guy has been arrested a few times, or has tested positive for drugs a few times--it's easy to take that guy off the board. And then it just goes on down the line."
Some prospects with checkered pasts are able to get through the interviews because agents train them on what to say.
In the end, though, the player cannot hide personality, Campbell said.
"You get a first impression at the Senior Bowl," he said. "We're going to see these kids again at the combine. We'll probably see them again at their spring work. So if you just start off piecing that together, you can get a pretty good feel [for a player's personality]."
The team has a final opportunity to interview prospects in the weeks leading up to the NFL Draft, scheduled for April 25-26.
"The players we have questions on that we really like, we bring them in before the draft and spend two whole days with them," Campbell said. "So you get to know a guy pretty well."