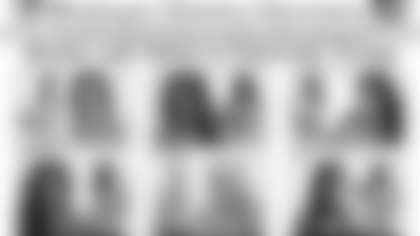 Fourteen of the Redskins Cheerleaders, along with director Donald Wells, departed for a 10-day tour of military installations in Europe on Oct. 1.
During their tour, the group made stops in Germany, Belgium and the United Kingdom performing the 90-minute Variety Show for service members and their families. This tour is the 27th DOD tour in nine years for the Cheerleaders and it was be the first time they have performed in the UK and Belgium.
Armed Forces Entertainment helped send the First Ladies of Football and Energy Enterprise Solutions, LLC was the presenting sponsor for this coming trip.
Since their first tour with AFE to the Balkans in 1999, the Redskins Cheerleaders have been a hit all over the world and have the reputation as being the best entertainers in pro sports.
"I can't believe that within six months of making the squad that I was able to travel all over the world." said Stephanie, the 18-year old rookie from Maryland.
Stephanie spent several weeks in India and then traveled with the squad to Aruba, this after just finishing her senior year in High School and never traveling outside of the United State prior to making the squad.
Traveling with the group was seasoned veteran and current calendar cover model Tiffany. She had not been on tour in three years and was looking forward to hitting the world stage again.
"My work schedule didn't allow me to make it out on the recent tours, but I was so excited to visit the troops stationed in those countries and let them know how thankful I am for their support," Tiffany said.