It was a whirlwind month of December for Todd Collins, but with the Redskins' season now over, he's on the verge of free agency.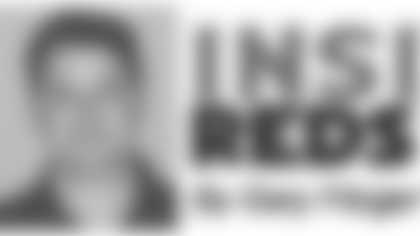 Collins, who took over for injured starter Jason Campbell in early December and led the Redskins to four straight wins and a playoff berth, says he is uncertain about his football future.
One thing he is sure of is that he is grateful to the Redskins for the opportunity to play. Before becoming Washington's starter in Week 14, he had gone 10 years between NFL starts.
"It was pretty good timing, to get a chance to play," said Collins, who signed a 2-year deal with the Redskins prior to the 2006 season. "And fortunately the team performed well and we did some good things.
"I don't know what the future holds in terms of free agency, or what the level of interest will be elsewhere, or what that their feelings are going to be here in bringing me back.
"But I know I had a great time here in Washington, and I'm grateful for all of the years I've spent to finally get the opportunity here and play in this great city."
Collins finished the regular season completing 67-of-105 passes--a 63.8 completion percentage--for 888 yards, five touchdowns and no interceptions.
In the Wild Card playoff game at Seattle last Saturday, he completed 20-of-50 passes for 266 yards, two touchdowns and two costly interceptions, both of which were returned for touchdowns.
Collins was also sacked three times as he faced a heavy pass rush from an aggressive Seahawks defense.
Certainly, one reason Collins excelled was that he had familiarity with the offense run by associate head coach-offense Al Saunders. Collins spent five seasons with Saunders in Kansas City before they both arrived in Washington in 2006.
"In terms of the system and the scheme, I'm very comfortable with that here," Collins said. "The coaches--I feel real good about that. It just comes down to opportunities. I'd like to have an opportunity to play. I don't know if that's going to happen here or if it's going to happen elsewhere, but I'd like to hear what [the Redskins] have to say.
Is a starting job one of his conditions?
"No, there are really no conditions," Collins said. "I just have to know what they're feelings are, and then I have to gauge that with the level of interest around the league. I'm a competitor and I prepare to get ready to play. That's what we're here for. So that would be the ideal situation. I don't know if it's going to materialize, though."
Whatever happens, Collins did say that he'll always remember this season as one where he and his teammates came together in the face of tragedy and adversity to accomplish their goals.
"The thing that stands out about 2007 would be Sean's death and going through so much adversity--people counting you out and thinking you don't have a chance," he said. "We had a group of guys come together, regroup, start playing for each other, and be able to achieve some things that nobody thought they could do.
"In the process, we became better friends and better teammates. It's something that we will remember forever."