It has been a whirlwind month for Todd Collins, who three weeks ago was an increasingly obscure backup quarterback.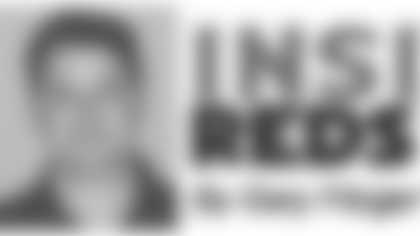 On Sunday night in Minnesota, the 36-year-old Collins was all of a sudden a key figure in the NFC playoff picture. In a pivotal game against the Vikings, Collins guided the Redskins to an impressive 32-21 win.
The ride doesn't stop there. Collins can lead Washington to a playoff berth with a win this Sunday against the Dallas Cowboys at FedExField.
"It is exciting," Collins said. "Any time you are late in the season and you are playing games that mean something in terms of going to the playoffs, that is where you want to be in December, especially late December. We are very fortunate to be in that position and we want to take advantage of this opportunity."
In climate-controlled Metrodome on Sunday night, Collins rose to the occasion. He completed 22-of-29 passes for 254 yards and two touchdowns, a 33-yarder to Chris Cooley and a 32-yarder to Santana Moss. His QB rating: 124.8.
Collins got in a rhythm in the first quarter after he completed two third-down passes to Reche Caldwell. Both were timing routes in which Collins threw the ball before Caldwell made his break.
On Collins's first touchdown pass, midway through the first quarter, he dropped back to pass and shifted right to escape pressure. Downfield, Cooley put a move on linebacker E.J. Henderson and was wide open.
Collins lobbed a deep pass to Cooley, who caught it in stride and raced into the end zone for a 33-yard touchdown reception.
Midway through the second quarter, Collins threw deep to Moss, who made a leaping grab over cornerback Marcus McCauley for a 32-yard touchdown catch.
"Santana just reached up and got it," Collins said. "As a quarterback, it gives you great confidence in throwing to a player like that."
Minnesota has the NFL's top-ranked run defense and two Pro Bowl defensive tackles in Mike and Pat Williams, so it was expected the Redskins would emphasize the passing game.
"I think Detroit [in Week 13 against Minnesota] came out and tried six rushes the whole game against them," he said. "Some people completely abandon the rush figuring they can't run it. I don't think you can abandon the rush.
"We want to be balanced. You need to run the ball when you need to run it and throw the ball when you need to throw it. We are going to have to find some way to make some yards."
The offensive approach called for Collins to move around in the pocket as much as possible.
"We tried to move the pocket so those big guys couldn't get a beat on me," Collins said. "It turned out to be a great strategy."
Collins has exceeded a 120 quarterback rating twice this season. Overall, he he has completed 45-of-74 passes for 644 yards, four touchdowns and no interceptions in three games.
Even though Collins is a 13-year veteran, he admits that he is developing his identity as a starting quarterback. Teammates are still getting to know him, and he is still getting to know teammates.
Collins is smart, efficient and understands Al Saunders' offense better than anyone on the roster. Plus, he has a quirky but endearing sense of humor.
"I just haven't had the opportunity to start," Collins said. "When I [started] in Buffalo 10 years ago, it was quick. They made a change quickly. And basically I have spent 10 years trying to get that next opportunity.
"Through the years, I just tried to work on my skills, keep up and do my job week to week, and then hope to get sometime."
"I worked on a bunch of things," he said. "I worked on reading defenses. When I went to Kansas City, with [head coach] Dick Vermeil, Al Saunders and the quarterback coach Terry Shea, we did the drill work with the timing and we worked on footwork just over and over.
"At times, I was kind of out of my comfort zone and letting the ball go too quickly. This coaching staff and offense has drilled that philosophy into me. I think my technique has changed a lot."
Regarding the timing routes that proved effective early in Minnesota, Collins said: "That is something that goes with the offense. I give credit to the coaches with the drill work. They just drill it into your head: get rid of the ball, get rid of the ball.
"At times, it doesn't feel comfortable. You think you are doing it too fast, but you are really not. The receiver is there."
It comes down to patience and trust. Those are two attributes that Collins had to master as he waited for his next NFL opportunity.